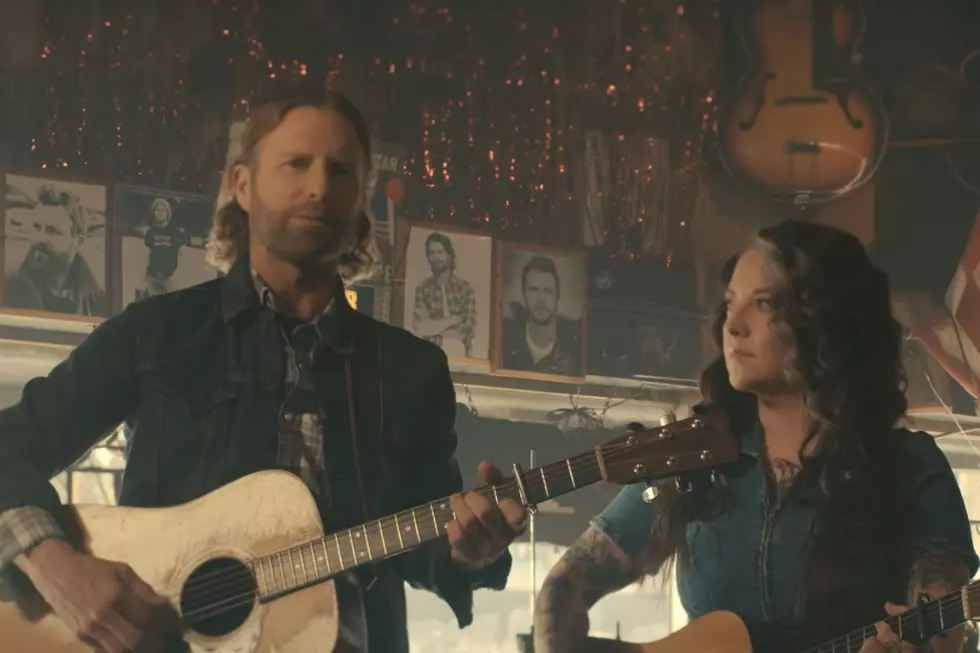 Dierks Bentley & Ashley McBryde Tip Their Hats to 'Cowboy Boots' [Listen]
YouTube
Dierks Bentley has enlisted Ashley McBryde for his brand new song "Cowboy Boots," and it's got all the makings of a timeless country tune.
Written by Bentley alongside hit songwriters Casey Brown, Hunter Phelps and Jordon Minton, the mid-tempo tune personifies and pays homage to the beloved Western trope and staple item in many country folks' lives.
"They were made to ride and ramble / They were made for desert stars / They ain't broke in 'til they've broken / A few horses and some hearts / Kickin' dust up instead of habits / Got some bad ones they should lose / That's why they call 'em cowboy boots," Bentley sings in the opening verse, before continuing in the all-too-relatable second verse.
"They were made to count a band off / Two-step across the floor / Push down on a throttle / Hide a bottle, kick down doors / They'll make you feel ten feet tall / And cool like Chris LeDoux / That's why thеy call 'em cowboy boots," he humbly notes.
The powerful storytelling then kicks up a notch in the chorus when McBryde joins him on harmonies. "Don't be surprised / Thеy got a warning in their name / And the one that's got 'em on / Can't take all the blame / They got a reckless reputation / That they always live up to / That's why they call 'em cowboy boots," reflect the country singers with their heartfelt delivery, complete with banjo plucks, guitar strums, and fiddle lines.
The accompanying performance video also features a couple romantically two-stepping while Bentley and McBryde perform their song at the iconic Roberts Western World located in the heart of Broadway in Nashville.
"Cowboy Boots" is the latest preview of Bentley's 10th studio album, Gravel & Gold. Earlier-released tracks include "Same Ol' Me," "High Note" with Billy Strings and Charlie Worsham, and its lead single, "Gold."
Of the forthcoming LP, Bentley says in a press statement, "It's been four years since I put out an album, and part of the reason for that is that I wrote and recorded two records that I didn't feel were good enough and had to start over … twice. I'm going to be able look back on it for the rest of my life and be like, yeah, that was harder than I thought it would be, but zero regrets. I had to get it right. That's the Gravel & Gold of it all."
Fans can pre-order and pre-save Gravel & Gold, including signed CD box sets and vinyl records, here.
50 Great Modern Traditional Country Songs (and Artists!):