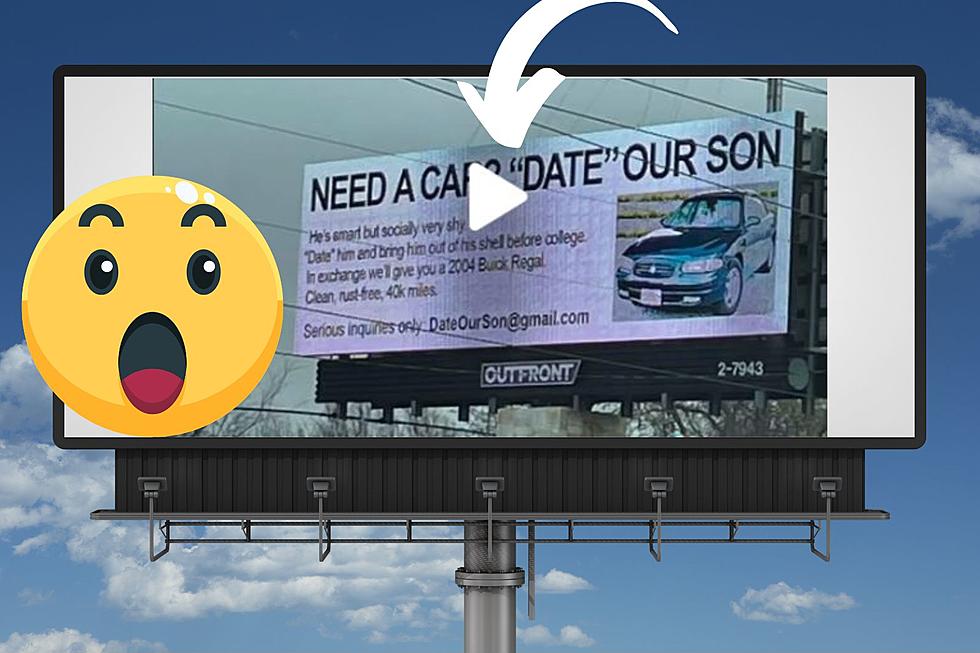 Embarrassing Billboard in Dallas, TX Offers a Car for Dating Their Son
@CowboyZane via Tiktok, Canva
There are many people that have trouble finding their perfect match, while we would all love to have some fairytale relationship, that just isn't real life. And we know that sometimes family members while they mean well, they can make situations worse. Like in this situation where it seems as though some parents trying to help their son with his dating life now put up a billboard in Dallas, Texas offering a free vehicle if a woman will date their son. 
As you would expect this billboard is going viral online as most people can't help but laugh at the billboard, and the vehicle that is being offered. The vehicle as described on the billboard is a 2004 Buick Regal that is clean, the vehicle is rust free and only has about 40k miles on it. It seems like it could be a good vehicle for many years.  
Why Can't Their Son Get a Date?
According to the billboard their son is intelligent but very shy. If you're the type of woman who can help him break out of his shell before going to college, you could get this vehicle. This seems like a weird dating transaction going on here, but these people can do whatever they want with their vehicle. Even if it means embarrassing their son. 
We Are Going to See More of This
With more kids sitting behind the computer screen or phone and not learning the social skills like how to approach a woman I would not be shocked to see more of this type of thing happen over the next few years.  
It will be interesting to see if this works. 
5 Most Expensive Steaks Served in Dallas, Texas
If you're looking for a delicious and juicy steak and don't care about the price tag, here is a list of the most expensive steaks in Dallas.
5 Food Challenges Near Dallas, Texas
Here is a look at 5 delicious and difficult food challenges near Dallas, TX.