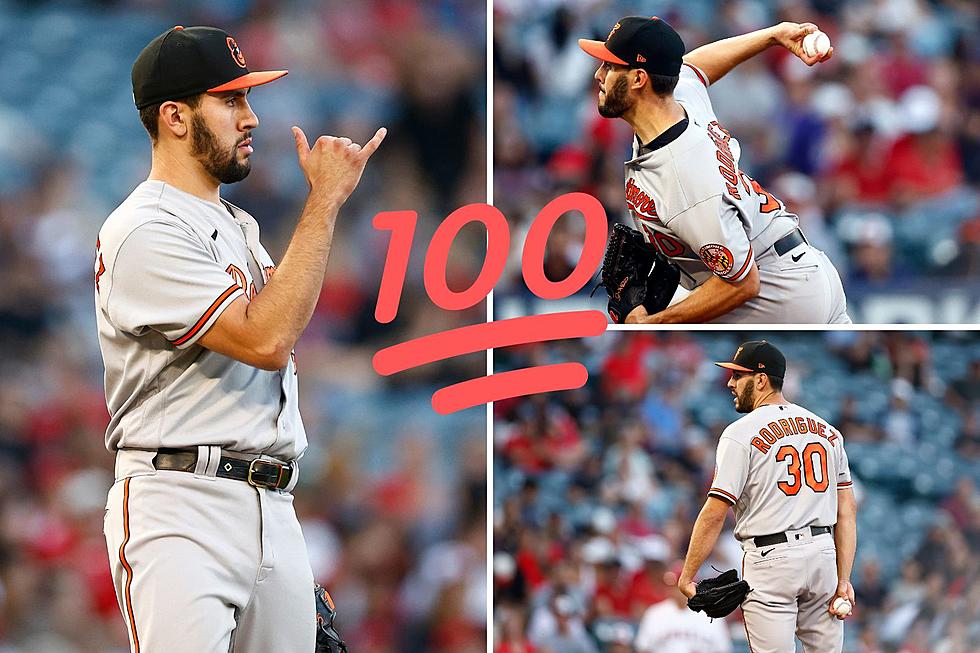 East Texas' Grayson Rodriguez Reaches Milestone Versus LA Angels
Getty Images/Ronald Martinez/Canva
Tale of Two Seasons
Grayson Rodriguez's 'Tale of Two Seasons' continues. Since being recalled to the Baltimore Orioles in mid-July, the Central Heights native has been super-impressive.
He got the start last night on the road against the Los Angeles Angels. Rodriguez went 6 innings, gave up two runs, and struck out 7 on the way to his fifth Major League victory. It was a major turnaround from his last outing against the Angels in May when he gave up 8 runs in a little over 3 innings.
Grayson also notched a minor milestone in the 4th inning when he recorded his 100th Major League strikeout. Appropriately enough, it was a 99 mph fastball. Rodriguez would add four more K's to give him a total of 104.
Take a Look at the Highlights
Grayson Gets Mad
Rodriguez will be the first to tell you that this wasn't his most stellar start. He had a few control issues early on that led to a number of hits and walks which led to several jams out of which he had to work.
He settled more into his groove from the fourth inning through the sixth. How did he do that? Well, he got mad at himself, as he mentions in his post-game comments below.
Another Step Closer to Division Champs
With the victory, the Orioles put a little more ground between themselves and the 2nd-place Tampa Bay Rays. Currently, Baltimore has a 3.5-game lead over the Rays in the American League East. The Orioles have 25 more regular-season games to play. Three of those games are in Houston, September 18-20.
Will Grayson Pitch in Houston?
The Orioles are currently using a 6-man starting rotation. If that holds to form, Rodriguez would be scheduled to start against Tampa on September 17, leaving him out of taking the mound at Minute Maid Park in Houston. But, nothing is written in stone.
Regardless, Grayson has become a dominant force in the Majors and is a huge contributor to one of the best teams in baseball.
LOOK: 30 Best Major League Baseball Home Run Celebrations Using Props
We examined every Major League Baseball team and found our 30 favorite home run celebrations where players brought props to the party.
Grayson Rodriguez Major League Debut
Grayson Rodriguez who played high school baseball at Central Heights made his Major League debut on April 5, 2023, pitching against the Texas Rangers.