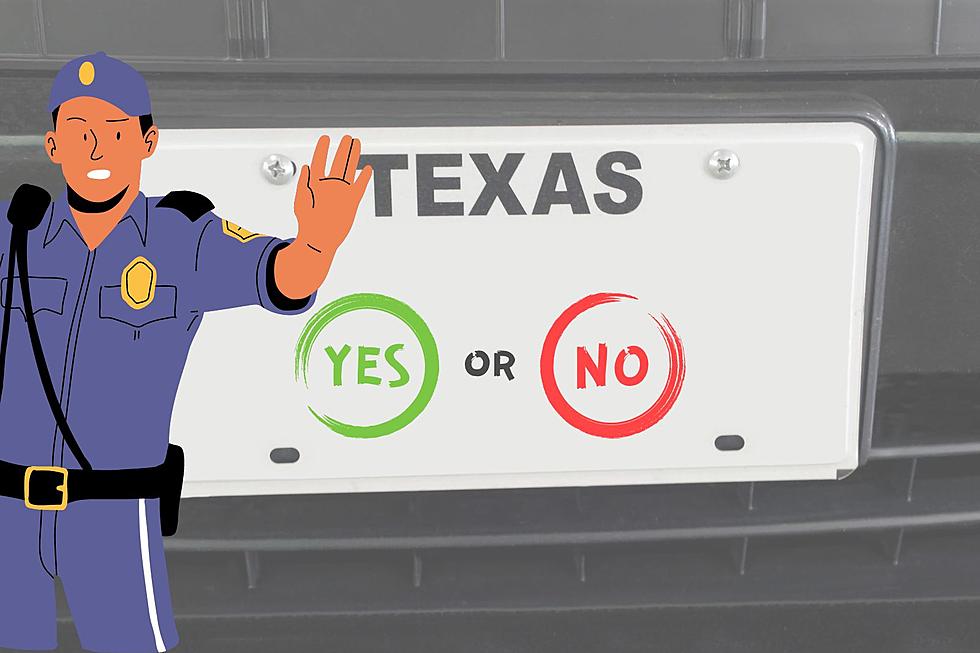 Does Your Vehicle Need a Front and Back License Plate in Texas?
Canva
As soon as we got our driver's license it meant freedom, we could go where we wanted (if allowed by our parents). Our vehicle opened so many doors, it was a huge step toward being an adult. Back in high school I remember even though my car was old and not very nice at all, I still has so much pride that I had my own car. And because I wanted to make my car exactly the way I wanted it, I removed the front license plate, I thought it looked better (even on an 1987 car, ugh). While I wanted my car to look "cool", is it even legal to drive around Texas without a front license plate? 
It would make sense that you would need to display a license plate on both the front and back of your vehicle, the state of Texas issues two so I'm sure they want you to use both. But is it a law for you to display both license plates in Texas? The simple answer is yes, you can be pulled over and issued a citation if you don't have both a front and back license plate on your vehicle. 
What if My Car Doesn't Have a Place for a Front License Plate?
Many Tesla vehicles don't have a place for a front license plate, but that does not exclude them from this Texas law. In fact, the only vehicles allowed to not display both a front and back plate are: road tractors, motorcycles, trailers, semitrailers, antique vehicles and former military vehicles. 
What is the Fine for Not Having Both Plates Visible on Your Vehicle?
The fine for not having a front license plate in Texas is $200. To avoid being pulled over and getting a citation just make sure both your front and back plates are visible.  
7 Interesting TEXAS Facts I Guarantee You Did Not Know
Most of us know that Dr Pepper (with no "." by the way) was invented in Waco. In fact Most Texans know that Six Flags theme park, based outside of Dallas, TX, is named after the six countries that have ruled over The Lone Star State.
45 Ways to Show Off Your Whataburger Fandom
The Whatastore is full of clothes, collectables and even summer attire that any fan would love.