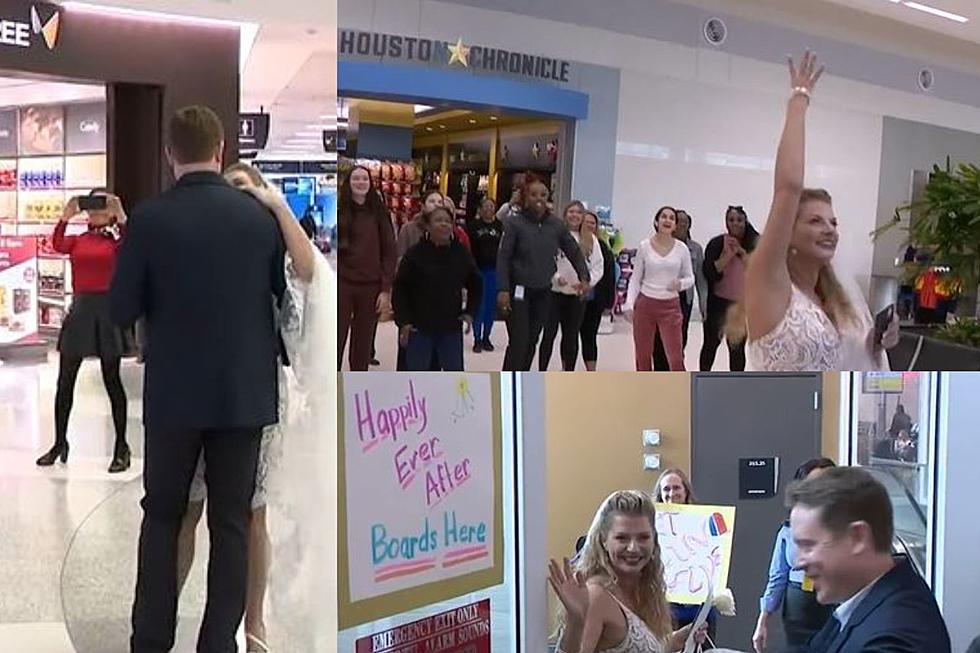 Couple Ties Knot for First-Ever Wedding at Hobby Houston
WFAA
Yes, you read that correctly! A couple got married at Houston's Hobby Airport in the midst of a busy terminal.  As reported by WFAA, history was made on Monday morning at Hobby Lobby with the first-ever wedding at a Houston airport.  The wedding ceremony occurred in the Southwest Terminal for Lara Mark and U.S. Navy Lt. Commander Cylas Hensley'.
The wedding went off without a hitch and the ceremony was witnessed by many as they made their way through the concourse.  The staff at Hobby was perfectly planned by Houston Airports. The cake and the champagne to the music. Their first dance was a memory that even strangers got to soak in. They even had a bouquet toss before heading off to their honeymoon.  Hobby Airport played a special part in their engagement as it played as the meeting point for a long-distance relationship. Congratulations and thank you for your service. 

TSA FINDS:
Check out some of these weird finds that TSA has found at airports throughout the United States. Who thought of some of these ideas I mean, I am scared to accidentally take a little bottle of liquid of over 3.4 ounces. Here is the list of the strangest and some dangerous finds. Some guy in Houston really tried to sneak a meth burrito in his carry-on.
BULLETS IN DEODORANT FROM THE ATLANTIC CITY INTERNATIONAL 
THIS PISTOL WAS FOUND AT NEWARK LIBERTY INTERNATIONAL
THIS METH BURRITO WAS FOUND AT HOUSTON'S HOBBY AIRPORT
THIS FIREARM BUCKLE WAS FOUND AT HONOLULU INTERNATIONAL
A NICE CLEAVER INSIDE LUGGAGE AT HARRISBURG INTERNATIONAL
BEAR-SPRAY AT DESTIN-FORT WALTON BEACH AIRPORT
A MASSIVE MACHETEAND A FEW OTHER THINGS AT REAGAN WASHINGTON NATIONAL
FIREWORKS IN LUGGAGE AT SYRACUSE HANCOCK INTERNATIONAL 
THIS MASSIVE WINE HOLDER FROM SACRAMENTO INTERNATIONAL
THIS MASSIVE CHAINSAW FOUND AT NEW ORLEANS INTERNATIONAL
WEIRDEST DRUG BUST AT THE TEXAS BORDER
In Your Words What Downtown Needs Next
Inside Amazon: A Detailed History of America's Biggest Online Retailer
Stacker
compiled a list of key moments in Amazon's history and its current business from a variety of sources. Here's a look at the events that turned an online bookstore into a global conglomerate and a self-made entrepreneur into the world's second-richest man.