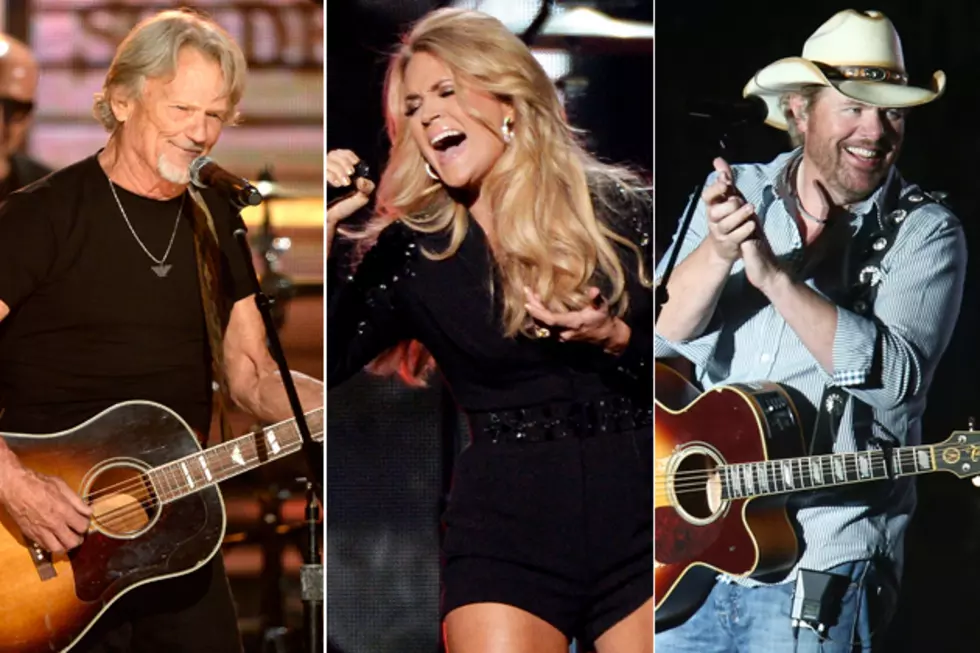 Top 10 Country Songs About Cowboys
Kevork Djansezian / Rick Diamond / Christopher Polk, Getty Images
In country music, the cowboy archetype has long produced great songwriting. That's partly because the idea of the cowboy is more complex than you might think.
Some cowboys are rugged and a little dangerous, which adds mystery and intrigue to their portrayal. Others are stoic and strong, which means they're dependable, but not necessarily the best romantic partner or communicator. And in other cases still, the cowboy lifestyle is something exciting, an ideal for which to strive — the promised land, as it were.
With a few notable exceptions, country music's cowboy songwriting -- the best of which you'll find below -- tends to be kind and empathetic. Even if a cowboy can be difficult to get to know, his reliable nature makes him a comforting, solid presence. And even when songs point out how flawed these men can be, they're still treated with respect.
10

Country supergroup the Highwaymen — Johnny Cash, Waylon Jennings, Willie Nelson and Kris Kristofferson — were the right troupe of musicians to provide this sincere tribute to the world that's changed due to the passage of time: "The old Chisholm trail is covered in concrete now / They truck it to market in fifty foot rigs." The quartet's multi-part harmonies, which were always one of the best qualities of their music, are particularly respectful here.

9

In this song, Underwood does her best to warn a friend about the hunk she's eyeing up at the bar: "He looks like a cool drink of water / But he's candy-coated misery / He's the devil in disguise / A snake with blue eyes." It remains to be seen whether her pal listens, although between the song's ferocious electric guitars and a classic forceful Underwood vocal performance, she'd be crazy not to.

8

This string-laden, sweeping lament for the cowboy's less desirable characteristics doubles as a treatise on what it means to love someone who's imperfect but tries to show affection in his own way. "Stubborn pride is just the way of cowboys I suppose," Parton belts. "Even love can't change the things he ought to change the most." Still, she acknowledges that "his eyes keep tellin' her, 'You know I love you anyway / No matter what I say or what I never say.'"

7

This Big & Rich song centers on a cowboy with a bit more swagger than others of his ilk — mainly because he's focused on flirting with women and having a good time rather than work duties. Musically, the hit is a charming throwback to the early 2000s country-rap movement, with speak-sing vocals and flourishes such as buckling banjo.

6

Keith's first single, "Should've Been a Cowboy," hit No. 1 on the Hot Country Songs chart -- and it's easy to see why the song is so appealing. Lyrically, it fantasizes about classic cowboys of yore (e.g., "Gene and Roy") and their freewheeling, optimistic lifestyle: "Go west young man, haven't you been told? / California's full of whiskey, women and gold." Keith matches the throwback imagery with a tough, twangy vocal delivery and upbeat pedal steel.

5

Montana was the first female country music performer to have a song go platinum, courtesy of the brisk, yodeling-heavy "I Want to Be a Cowboy's Sweetheart," a lament which longs for the rough-and-tumble cowboy lifestyle (and the cowboy himself). Cyndi Lauper covered this tune (with a yodeling assist from Jewel) on her 2016 album Detour, while the Dixie Chicks also covered it on their debut album, 1990's Thank Heaven for Dale Evans.

4

Brooks has no shortage of cowboy songs, but this one in particular stands out, as it's a tribute to his late friend Chris LeDoux, who passed away in 2005. The song is not only a literal nod to his life — LeDoux was an actual rodeo cowboy — but it also speaks to his indomitable spirit and lively music. As Brooks cheekily puts it, "Be more like Chris / Pull your hat down tight / And just LeDoux it."

(Editor's Note: Because Brooks' music is not available on YouTube, the embedded version of the song is being performed by Jerrod Niemann.)

3

This No. 1 country hit was a team effort from the Dixie Chicks: Martie Maguire's keening fiddle intertwines seamlessly with Emily Strayer's understated banjo as vocalist Natalie Maines sings deeply romantic lyrics about finding a perfect match with a dude, idealized here as a no-frills cowboy.

2

Campbell excelled at capturing the mindset of loners trying to press on and navigate life's vicissitudes. And so he popularized (and recorded the definitive version) of this tale of someone who dreams of one day achieving fame and fortune — which, to him, comes in the form of being "a rhinestone cowboy / Riding out on a horse in a star-spangled rodeo" and adored by strangers near and far.

1

"Mammas Don't Let Your Babies Grow Up to Be Cowboys"

Willie Nelson and Waylon Jennings

Lyrically, this song highlights a cowboy's contradictory traits — liking "smoky old pool rooms and clear mountain mornings / Little warm puppies and children and girls of the night" — and establishes that he's not the kind of guy you want to marry. However, the two country legends add empathy to the song (and make this cover their own) thanks to slightly mournful, earnest vocal performances; in fact, this version nabbed the 1979 Grammy for Best Country Performance By a Duo or Group With Vocal.