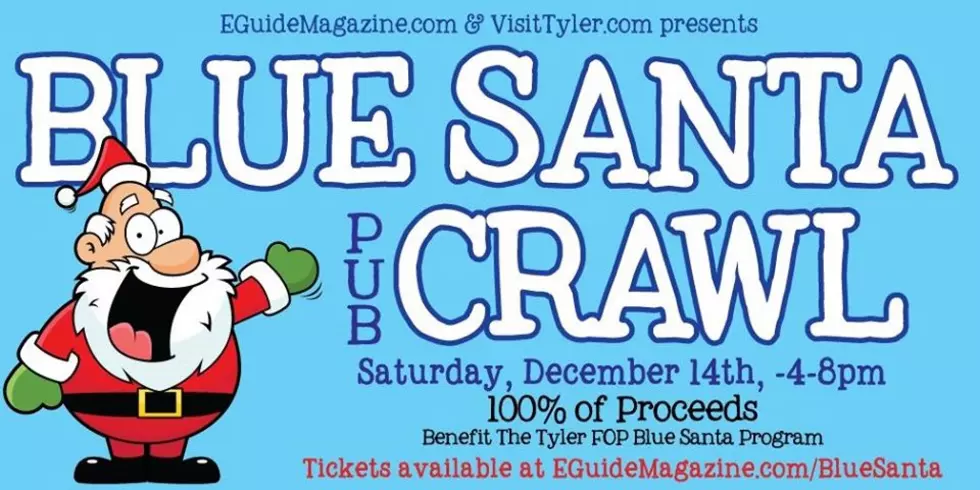 'Hit The Bricks' Features 'Blue Santa Pub Crawl' December 14
Photo cred: Downtown Tyler
Every second Saturday is Hit the Bricks in downtown Tyler, and next Saturday, December 14, is no exception. 'Tis the season, so you can expect seasonal flair and holiday-oriented fun as downtown businesses and venues come alive—both on and off the square.
December's Hit the Bricks starts at 10 a.m. and continues throughout the day on into the evening. Activities range from checking out the Rose City Farmers' Market 'Winter Market' at ETX Brewing Co., the Holly Jolly Paws adoption event, to the 'Blue Santa Pub Crawl,' from 4 to 8 p.m. And that's just the beginning.
 The "Blue Santa Pub Crawl" is always a featured favorite, with its lit costume pieces, Santa beards, and laid back vibe--especially since 
all
 of the proceeds will go to help a child who needs help this season, via the Fraternal Order of Police's Blue Santa program. Purchase tickets here:
eguidemagazine.com/bluesanta
As you can see, there's quite a variety from which to choose. Peruse the plethora of options in the schedule of events as follows:
10am-1pm: Rose City Farmers Market will host a winter market to coincide with the Hit The Bricks at ETX Brewery. There will be live music, locally grown leafy greens, lettuce, broccoli, spinach, loads of root crops, and micro-greens. Pasture raised beef, chicken, and pork, artisan baked treats, jams and jellies, and apothecary goodies will be available too.
10am-4pm: Shop Local Market at Tyler Public Library - Get some holiday shopping done at the Library from local vendors selling their creations, featuring hand-crocheted items, specialty scarves and headbands, bookmarks, photography, jewelry, tumblers, and more. 10% of all profits will go to fund library programs.
10am-4pm: Holly Jolly Paws Adoption Event at Smith County Animal Shelter (322 E. Ferguson). There will be free adoptions, live music from Tiffany Woys, Santa pictures, vendors, coffee and hot chocolate and much more! Low cost veterinary and microchips available on site too.
10am-4pm: "Making Classic Ornaments" at Goodman Le-Grand Museum - This FREE family craft project will be held for all ages.
12 noon-4pm: "Hello Future" is on exhibit at Gallery Main Street. Explore what greeting and embracing the future means to the artists exhibiting at GMS. It may reflect their interpretation of the distant future or the very near future, predictions or prophecies for the future, and how will you approach or embrace them. Admission is free.
2-3:30pm: Robotics Makerspace at Tyler Public Library - Come out and learn the basics of Computer Science by programming a variety of robots. This activity is being coordinated through a partnership with the Griffin Elementary Robotics program. Sign up at signupgenius.com/go/60B054AA9AD2FA0F49-robotics.
5-8pm: The Nativity Live at Foundry Coffee House - Join Bethel Bible Church's Downtown Campus and the Foundry Coffee House as they bring the Bible to life for people of all ages. This live nativity experience will be a powerful and up-close look at the narrative of the birth of Christ. People of all ages are invited to this FREE community event.
6-8pm: Azalea District "Trail of Lights" - Take a self-guided driving tour through the Azalea District to see the historic homes decorated for the holidays.
6-8pm: "Beauty & The Beast" at Caldwell Auditorium(300 S. College Ave.) - This musical production is open to all ages. Tickets are $3 for students, $5 for adults. See facebook.com/events/554230331999422/ for details.
8-10pm: Card 53 Comedy's 10 Year Anniversary Show at Liberty Hall - Card 53 Comedy has been bringing the laughs to Tyler and East Texas for TEN years now! Join the fun for a special night of celebration (and of course laughter) that you will never forget. You won't want to miss out on this one-of-kind, improv comedy show where each night is a unique experience thanks to the creativity of the comedians and the participation of the audience.
8:30-10:30pm: Live music by Hindsight at ETX Brewing Co. No cover and all ages are welcome.
9pm: 3rd Annual Ugly Sweater Contest and Christmas Party at ETX Brewing - Held after the Group Photo for Blue Santa Pub Crawl, win prizes and show off your tacky Christmas sweaters!
9pm-1am: Rick's on the Square - Live Music, 21 and older only after 9pm. There is a cover charge.
•Held all day, the self-guided walking tour of the Half Mile of History is an outdoor, half-mile loop around the square that commemorates significant people, places, or events in Tyler. A digital brochure for the self-guided tour is at ow.ly/s8iD30czlpb
Find Live Music at
• ETX Brewing Co.
• Rick's On The Square
Free parking on the square or in the parking garage all day!