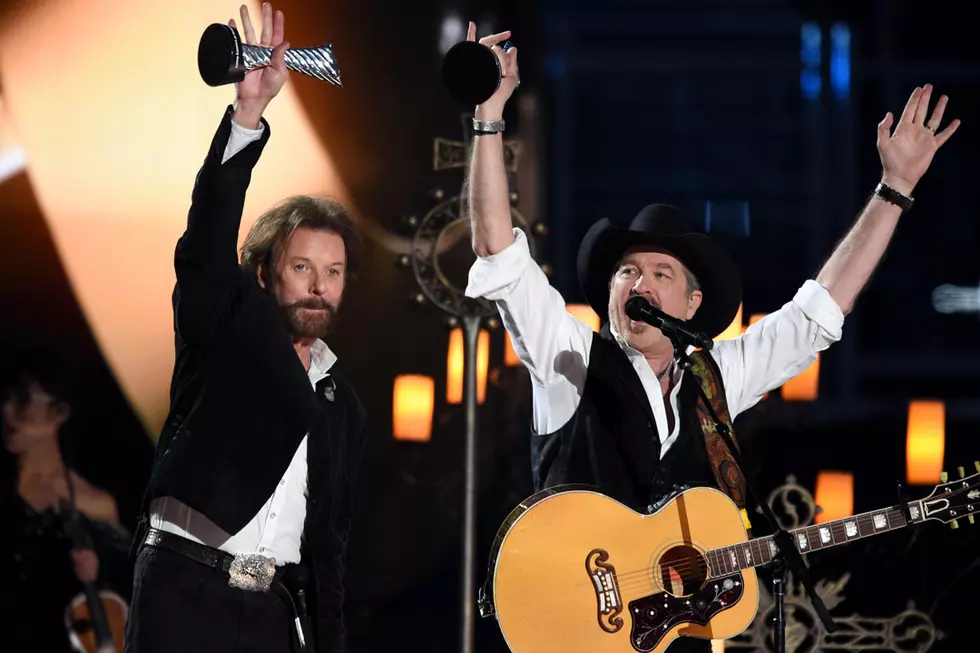 Brooks & Dunn on Hosting Awards Shows: 'We Panicked a Lot of Producers'
Cooper Neill, Getty Images
Brooks & Dunn are one of the most celebrated acts in country music history, but they admit that hosting awards shows has not historically been their strongest skill.
The most decorated duo in ACM Awards history hosted the show once in 1996, then served as hosts of the CMA Awards three years in a row in 2004, 2005 and 2006. While they enjoyed the experience hosting these live programs, Ronnie Dunn and Kix Brooks say that working under that type of pressure wasn't their forte.
"We panicked a lot of producers I think, hosting awards shows. It's like, 'You're on! You're on now, now you're up!" Brooks tells Taste of Country Nights of their hosting days.
The Wild Secret History of the ACM Awards
Dunn also recalled working with the late, iconic TV host and producer Dick Clark, who served as a four-time host of the ACM Awards in 1969, 1971, 1972 and 1973. His television production company, Dick Clark Productions, has been producing the ACM Awards since 1979.
"It was fun," Dunn notes, "Back when Dick Clark was around, I think one of his favorite things to do was to come up to you and go, 'We gotta stretch, we need to stretch, you're gonna go out and wing it for minute and a half ... A minute and a half can seem like two hours if you're not careful! But he would do it inevitably every time."
Brooks & Dunn will be able to sit back, relax and watch their longtime friend Reba McEntire host the ACM Awards for the 19th time in 2019. The ceremony will take place at the MGM Garden Arena in Las Vegas on Sunday (April 7) and air live on CBS. The duo is set to participate in one of the evening's many all-star collaborations, performing a duet with Luke Combs — a a featured guest on a re-recording of their debut single "Brand New Man" for their collaborative album Reboot.
Listen to Brooks & Dunn's Interview With ToC Nights,
Hard Workin' Men: See Brooks & Dunn Through the Years