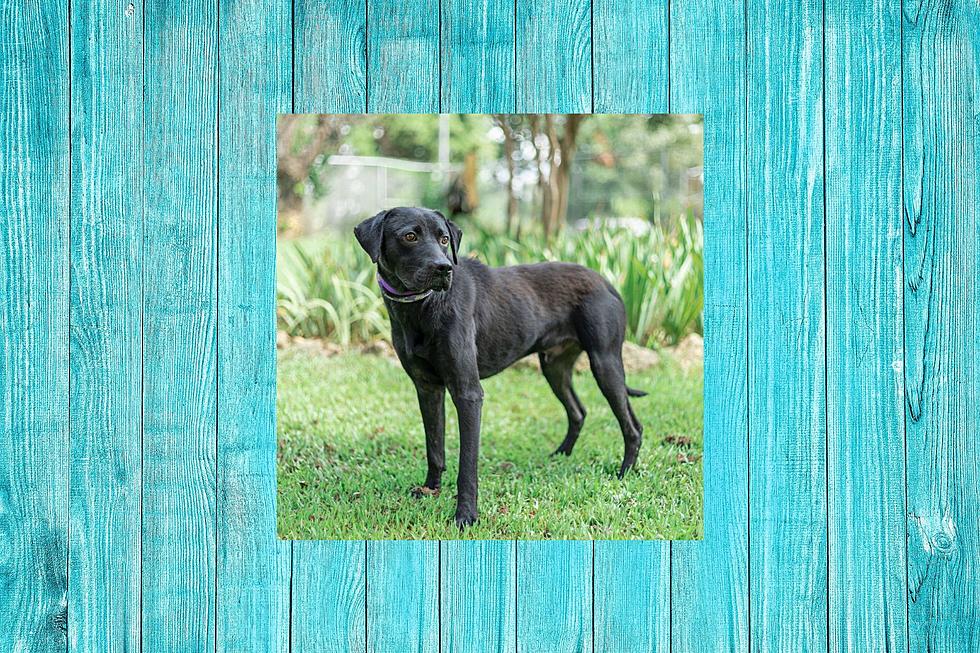 Shy But Loving – This Lab Retriever Mix Is Waiting To Be Adopted
Pets Fur People
Labrador Retrievers are one of the most popular breeds of dogs not only in Texas but in the U.S. too. The Humane Society's Pets Fur People in Tyler, Texas has an extremely loveable Labrador Retriever mix that is available for adoption.
Trey is a six-year-old guy looking for an East Texas family with older children to adopt him soon. This eighty-pound guy came into the care of Pets Fur People in late July 2021 and has been in their care ever since. Upon arrival, he had to go through heartworm treatment because he was heartworm positive, but he's been free of that for more than a year now. He completed treatment in March of 2022.
Trey will take some extra time warming up to you because he is pretty shy. Being shy doesn't mean he doesn't have love to give, he's actually got much of it. Once you and he bond you'll be best buddies for life.
Trey will go home with a starter kit of food, a big fluffy dog bed, a collar and leash and a certificate for half-price basic obedience training from Tyler Obedience Training Club.
For additional information on adopting Trey call 903.597.2471 or check the Humane Society's Pets Fur People website. Pets Fur People requires a completed adoption application before a meet and greet can be arranged. Check out the animals that are available for adoption. Adoption hours are Tuesday through Saturday 10 am until 5 pm - closed for lunch 1-2 pm. The Humane Society's Pets Fur People is the only brick-and-mortar no-kill shelter in East Texas. Pets Fur People offers routine vaccinations, except for rabies, to the public for dogs and cats. Follow Pets Fur People on Facebook, Twitter, and Instagram. Please be a responsible pet owner - spay or neuter your pets. Donations are appreciated.
Top 10 Predicted Names For Texas Baby Boys & Girls In 2023
These are the top 10 baby names that are predicted to be the most popular for baby boys and girls in Texas in 2023.
30 Of Tyler's Most Favorite Restaurants According To Residents
When asked what their favorite restaurant was right now, Tyler residents answered with these restaurants. Give them a try and one of these places could become your new favorite place
30 Of The Best Public High Schools In Texas
These are the top thirty public high schools in Texas according to
Niche
. Many factors went into creating this ranking, including, academic success and grades, school activities, health, and diversity as well as input from teachers, parents, and students.
Bringing These Things To A BBQ Apparently Make You Look Cheap
Social media allows for a lot of honesty. After a question was posted in a social media group it's been determined that if you bring these things to a Texas BBQ, you're considered to be a cheap guest.