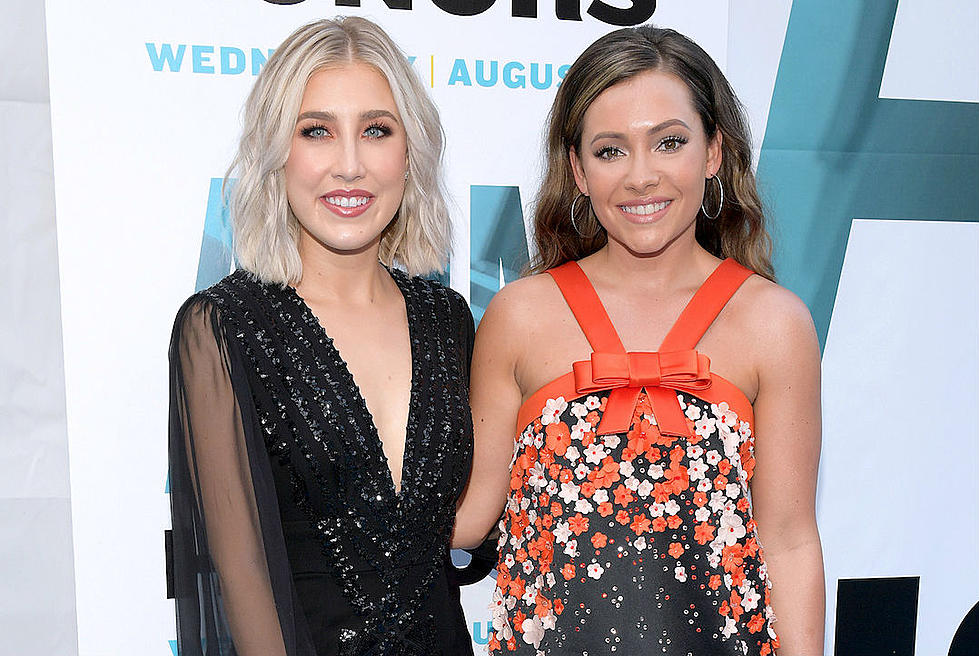 Maddie & Tae's 'Everywhere I'm Goin" and 5 More New Songs You Need to Hear
Jason Kempin, Getty Images
From kiss-off tracks to sweet declarations of love, there's something for everyone in the latest batch of new country releases. Read on to find your new favorite! 
Maddie & Tae, "Everywhere I'm Goin'":
Maddie & Tae's "Everywhere I'm Going" is an endearing track about how, if given the chance, the pair would always choose to be with their loved ones. In the chorus, they sing about the alternative, if being with them in person isn't an option. "Whole world in my living room / It's all you, babe / If I could paint paradise, it'd be you / It's all you, babe / Every red pin on the map I'm holding," the pair harmonize. "You're everywhere I've been / And everywhere I'm goin' / From backwoods to the neon glowin' / You're everywhere I've been / And everywhere I'm goin' / Everywhere, everywhere, everywhere I'm goin.'" Maddie & Tae wrote "Everywhere I'm Goin'" with Josh Thompson and Jimmy Robbins.
High Valley, "Your Mama":
Chances are, if you know anything about High Valley, you know that they value their family and spending time together. Fittingly, the duo's latest song, "Your Mama," pays tribute to an important family relationship. In the sweet song, High Valley sing as if to their children about what the moms in their life mean to them. "The one that brought you in the world, you'll always be her baby / The one that makes it all okay when everything goes crazy / I know you'll be a wide-eyed, wild child with a reckless side like me / Life's going to fly by, hope that you realize just how blessed we are that she's / Your mama," the group sings.
"We've always hoped and believed that our music could help bring families closer together," Brad said in a press release about the song. "Your Mama" was written by Ben West, Josh Miller, Troy Verges and Florida Georgia Line's Tyler Hubbard.
Milk Carton Kids, "I'll Be Gone":
The Milk Carton Kids are taking on the persona of a confident woman in their latest release, "I'll Be Gone." In the song, the group isn't afraid to pick up and leave if they aren't treated with respect, singing "I ain't one for leaving / But if you treat me wrong / I'll be gone / Gone before the sun goes down." Joey Ryan, half of the duo, jokes in a press release, "The narrator in 'I'll Be Gone' is a bada-- woman. Hopefully the fact that it's sung by two relatively effete guys doesn't ruin it." "I'll Be Gone" will appear on The Milk Carton Kids upcoming album, The Only Ones, which is set for release on Oct. 18.
Steve Moakler, "Push":
In his first new release since 2018's Born Ready, Steve Moakler tackles the struggle that comes with keeping a relationship alive. Throughout the song, he talks about not being afraid to push his partner into discussions that have to be had and through tough times. "This song came from all of those conversations that Gracie and I would have before we went to bed, the conversations when we would talk about things we were struggling with," Moakler explained to People about the song. "At the end of those conversations, I always tried my best to assure her that I wasn't going to let her fight any battle alone." Moakler penned "Push" alongside Blaine Mitchell and Grant Vogel.
Canaan Smith, "Life Ain't Fair":
Although it might seem like Canaan Smith's latest song, "Life Ain't Fair," is about complaining when things go wrong, the opposite is actually the case. In the mid-tempo song, Smith sings about finding the woman of his dreams, one that he thinks he doesn't fully deserve. Smith sings her praises in the chorus, with the lyrics, "'Cause if I got what I had coming / If I got what I deserved / I guarantee that I'd have nothing / Close to good as you, for sure / And either finding you was lucky / Or my momma's answered prayers / A guy like me, girl like you / I thank God life ain't fair." Smith's sweet song about love was written by Corey Crowder and Tyler Hubbard.
Mike Ryan, "Dear Country Music,":
Mike Ryan's "Dear Country Music," gives thanks to the genre that was there for the singer throughout his entire lifetime. Whether it was helping him fall in love, cope with loss or just hanging out with his dad, country music has been there for it all. In a press release, Ryan says of the song, "I started listening when I was pretty young, and throughout my life country music has always been there for me. Whatever the mood, there's a song for every occasion and I was proud to write this one with a couple good friends." "Dear Country Music" was penned by Ryan along with Lynn Hutton and Jameson Rodgers.