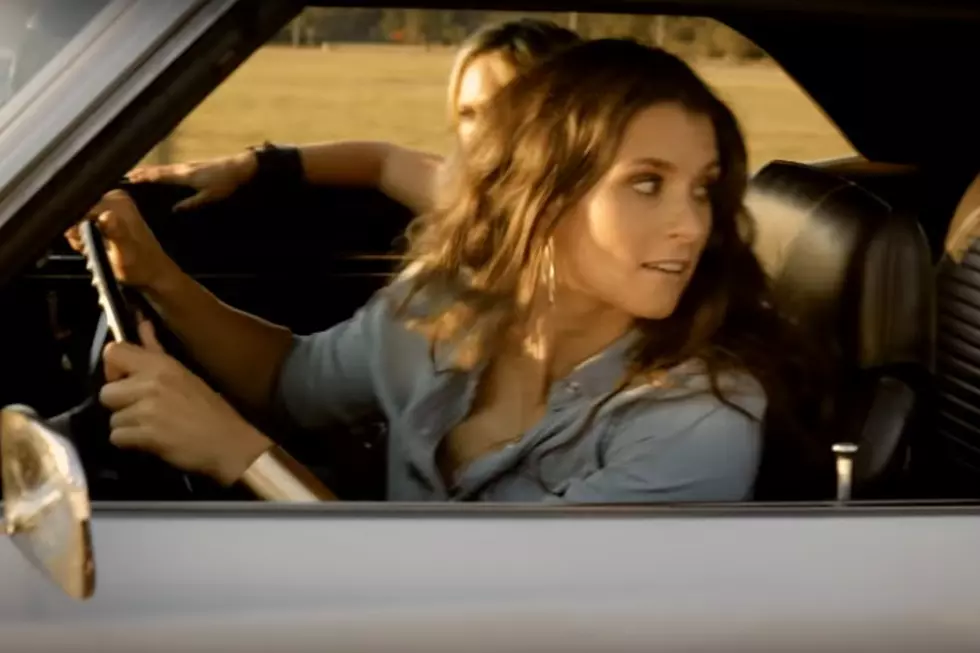 7 Epic Country Music Videos Featuring NASCAR Drivers
Miranda Lambert via YouTube
Most of the NASCAR drivers who've appeared in country music videos have appeared in cameos as themselves, but one of them showed some genuine acting range. We're taking a look back at the most epic cameos that NASCAR drivers have made in country music videos over the years.
Of course, it's not hard to see the crossover appeal. Country music and NASCAR both target people who share the work-hard, play-hard, good old-fashioned American values of faith and family that both the genre and the sport have always stood for. And seeing the drivers in a different setting is really fun, showing fans another side of people they usually see suited up and ready to roll.
Do you remember which NASCAR driver doubled for a country star? Which one did some real-life, serious acting? There's even one country video that features a whole slate of racing favorites! Read on to relive those fond moments.
1

Justin Moore, "Bait a Hook"

Starring: Carl Edwards

Carl Edwards' appearance in Justin Moore's "Bait a Hook" cast him as the city slicker who is dating Moore's ex. He's the object of Moore's derision in the lyrics as he sneers, "He can't even bait a hook." One comical scene shows the hapless city boy having to get help from a NASCAR-like pit crew to get his boat in the water down at the lake, but the joke turns out to be on Moore's character as his apparently blissfully happy former flame boats off into the distance with her new man — who, despite his inability to bait a hook, ends up with the bigger fish and the girl.

2

Trace Adkins, "Rough & Ready"

Starring: Dale Earnhardt, Jr .

Dale Earnhardt Jr. shows up for a very quick cameo in Trace Adkins' video for "Rough & Ready," in one of the opening scenes. He cruises up in a convertible next to Adkins' pickup truck and gives him a big victory sign right as Adkins sings, "Earnhardt racing sticker on the window / Banged up fender."

3

Alan Jackson, "Who's Cheatin' Who?"

Starring: Various NASCAR Drivers

Alan Jackson enlisted help from a Who's Who of NASCAR for his "Who's Cheatin' Who" video, including Rusty Wallace, Dale Jarrett, Mark Martin, Bill Elliott, Ernie Irvin, John Andretti, Jeremy Mayfield and the late, great Kenny Irwin Jr. It's no secret that Jackson is into cars, and he had a Ford endorsement deal, so shooting day must have been a dream come true for the country legend. He even got to drive Irwin's #98 Raybestos Ford F-150 NASCAR SuperTruck in the clip, while the drivers got to live out the dream of sitting in with the band.

4

Sara Evans, "Slow Me Down"

Starring: Carl Edwards

It's certainly fair to say that Carl Edwards is the most accomplished actor among the country stars who have appeared in country music videos. In addition to his turn in Moore's "Bait a Hook," he took on a role in Sara Evans' "Slow Me Down" video that required him to express real dramatic range, and he did so without formal dialogue as he and Evans played a couple who are on the verge of breaking up, arguing in their home as they decide whether they can save their relationship. Edwards' role was serious, but the behind-the-scenes footage from the shoot shows how much fun they had saying goofy dialogue while appearing to fight, with Edwards tossing out the classic line, "My ass hurts so bad from riding my bike yesterday."

5

Brooks & Dunn, "Honky Tonk Truth"

Starring: Dale Earnhardt

Dale Earnhardt and his son left a father-son legacy in more than just NASCAR. Earnhardt is also among the country stars who appeared in country music videos, in this instance Brooks & Dunn's clip for "Honky Tonk Truth." At first the clip weaves shots of him, dressed similarly to Kix Brooks, in and out so fast that you can barely tell it's the NASCAR legend, but finally the camera pulls back to reveal the trick by showing all three of them together.

6

Brad Paisley, "Old Alabama"

Starring: Darrel Waltrip and Jeff Gordon

Brad Paisley has always made very clever use of music videos, and his hilarious clip for "Old Alabama" is no exception. Paisley manages to blend appearances from the members of Alabama with cameos from NASCAR drivers Darrell Waltrip and Jeff Gordon, along with team owners Rick Hendrick and Kelley Earnhardt Miller, into one seamlessly entertaining visual package. The hugely entertaining video also features a car chase a la Smokey and the Bandit.

7

Miranda Lambert, "Fastest Girl in Town"

Starring: Danica Patrick

When Miranda Lambert was looking for a partner in crime for her "Fastest Girl in Town" video, it's only natural that she turned to NASCAR driver Danica Patrick. Patrick plays Lambert's accomplice in a car heist, first helping her distract a man in a bar, then serving as the getaway driver for a wild ride that ends with the victim under arrest and the sexy perps heading out for a well-earned beer.