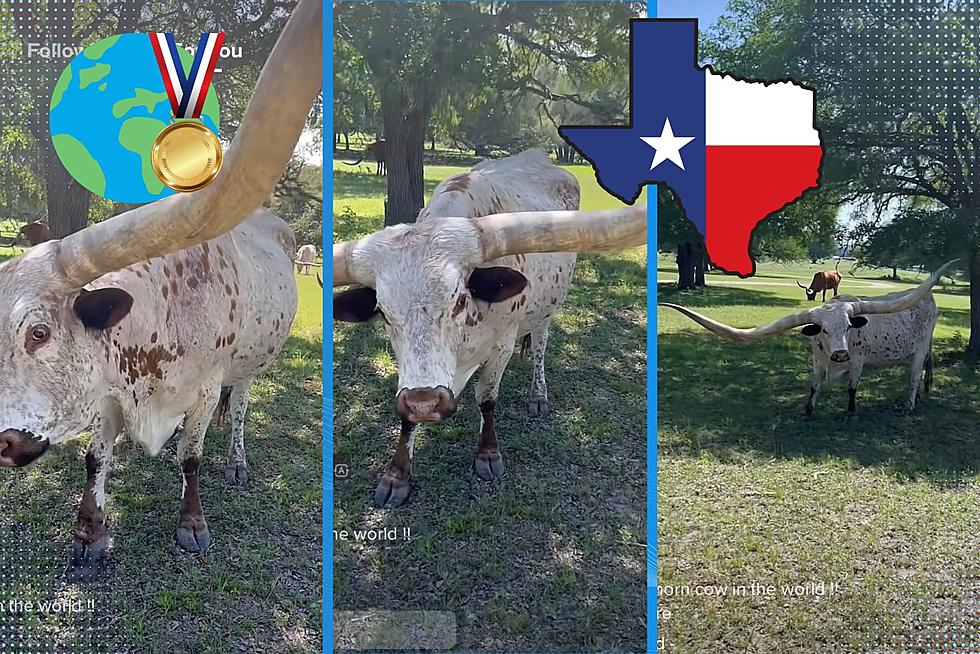 Astonishing Guinness Record Longhorn From Burnet, Texas Keeps Growing
RancherWade via tiktok
The Widest Horns In The World
Texas Longhorn Breeders Association Of America Champ
Tip To Tip Guinness World Record Holder
When you imagine the most Texas thing any Texan can do, breeding Texas Longhorns has to be at the top of the list. Kali and Mike Smith of the Cold Copper Cattle Company in Burnet, Texas do just that, and in the biggest way possible.
Back in October of 2022 their cow "Sweet Maxi" broke the Guinness Record for a tip-to-tip measurement of 111.875 inches. She's got well over nine feet of horns and is only six years old.
Sweet Maxi has many more years to grow and grow she has. Recently when she was measured again, she came in at 113 inches with no signs of stopping.
Guinness Book Of World Records Recognized This Cow
According to the Burnet Bulletin, judges measure cattle horns in three categories:
Tip-to-tip is a straight line from one end to the other.
Total horn follows the entire length as it's measured.
Twist follows the twist in the horns from one tip to the other.
There was an annual contest in Wichita Falls, in which Sweet Maxi took the new world record. She officially holds the record for Guinness World Record Measurement for "Longest Horn Spread on a Living Cow".
Rancher Wade on tiktok recently visited Sweet Maxi and her horns don't even fit on the screen if you get too close. It's amazing how she can get around with that huge spread.
The horns are actually hollow, and they aren't as heavy as they seem. Take a look at the video below and see this world-record Longhorn.
These Are the 15 Official Foods of Texas
If you haven't tried all of these, you'd better hurry up and do it before I tell Texas on you!
LOOK: The Texas Department of Public Safety and All Law Enforcement Are Looking For These Violations
To avoid getting pulled over make sure you're not violating any of these laws