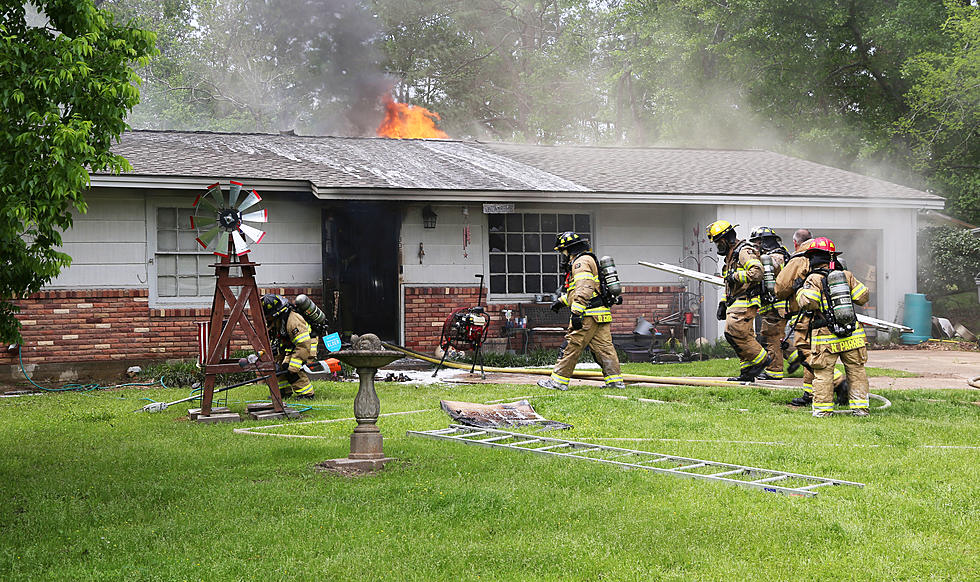 House Fire in Lufkin, Texas Sadly Claims the Lives of Two Pets
Contributed Photo/LFD
📌Lufkin Fire Department responded to a house fire Tuesday afternoon
📌Two pets perished in the blaze
📌An electrical issue is believed to be the cause of the fire
---
Lufkin Fire Department responded to a house fire on Voyle Street during the early afternoon hours of Tuesday, March 28. Neighbors reported the blaze in the 1300 block of Voyle Street around 12:45 p.m. Voyle Street is located inside the loop in northeast Lufkin, a couple of blocks away from St. Patrick's Catholic Church.
Firefighters arrived on the scene to see heavy smoke and flames coming from the structure. Neighbors alerted the firefighters that the homeowner's pets were believed to be inside the home. The firemen entered the burning house in an attempt to save a dog and a cat, but, regrettably,  the animals did not survive due to smoke inhalation.
Firefighters fought the blaze from the interior and exterior for about 45 minutes before it was called under control. They will continue to monitor for hot spots amid windy conditions throughout the afternoon.
The homeowner was not home at the time the fire began.
Lufkin Fire Marshal Ozzie Jarman said that after early investigations, it appears that an electrical issue in the attic was the cause of the fire. We will report any new updates passed along by the City of Lufkin Fire Department.
Voyle Street was blocked for a short while due to the blaze. Officers with the Lufkin Police Department responded to the area as well in order to assist with traffic control.
East Texas Top Cold Case Homicides
According to the Department of Public Safety's website, these are the top unsolved cases in East Texas
Dr. George Fidone's Artwork
Dr. George Fidone is a very popular pediatrician in East Texas. Recently, he discovered he also has quite a talent for painting. Here are some of his wonderful paintings.