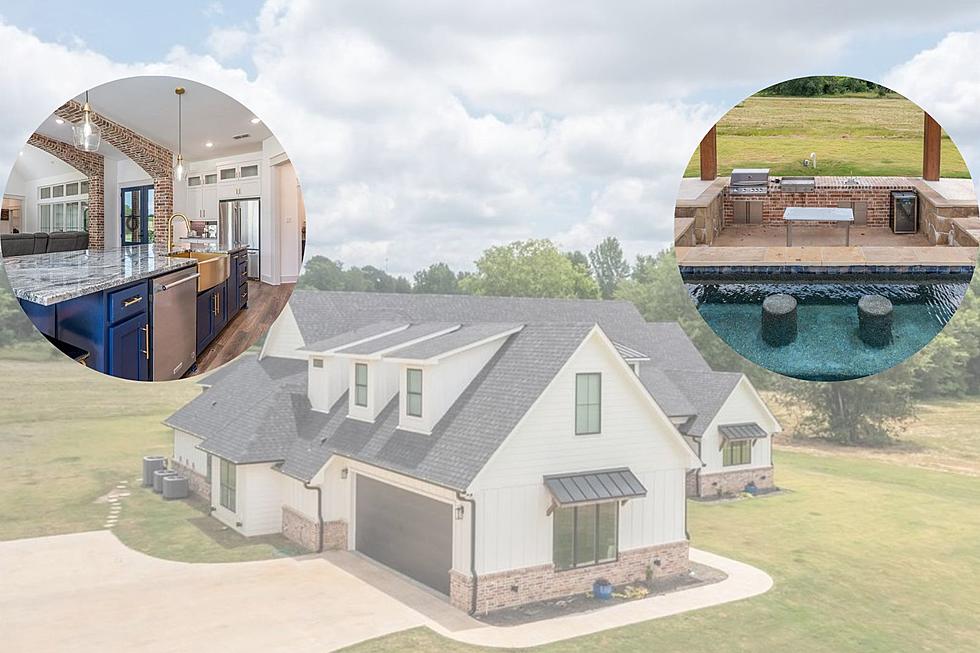 Lovely Home With Swim Up Bar on 22+ Acres For Sale in Bullard, Texas
Patty Taylor via realtor.com
Before I even start talking about this wonderful home on over 22 acres of land in beautiful Bullard, Texas just know that whoever buys this home needs to invite me to the housewarming party. While I am not in the market for a $1,650,000 home, this place looks like so much fun.  
The address for this stunning real estate property in East Texas is 22401 County Road 173 Bullard, TX 75757. The home is 5 bedrooms, 4 and ½ bathrooms and a total of 3,815 square feet sitting on 22.257 acres of land. The home was built in 2019 and still looks very new, you're going to love seeing the open concept floorplan which makes this place perfect for entertaining friends and family. 
The Outdoor Area Is Worth Purchasing This Home
What made me absolutely fall in love with this property is all the fun that is waiting outside. There is a fantastic outdoor kitchen area ready for all the summer barbecues. The pool and hot tub area looks so relaxing but what really sets this home apart is the swim up bar. You just need to make sure you have someone to serve you those drinks.  
Have Fun Looking Through These Photos
There is so much to love about this 22+ acre property, including several ponds on the property. Have fun looking through all these photos but promise me that I will get an invite if you buy this home.  
Home on 22+ Acres With a Swim Up Bar in Bullard, Texas
This home is currently for sale and perfect for entertaining friends and family.
Let's Find Out How 15 of Our East Texas Towns Got Their Name
Let's take a moment and out how Tyler, Daingerfield, Canton and 12 other East Texas towns got their name.