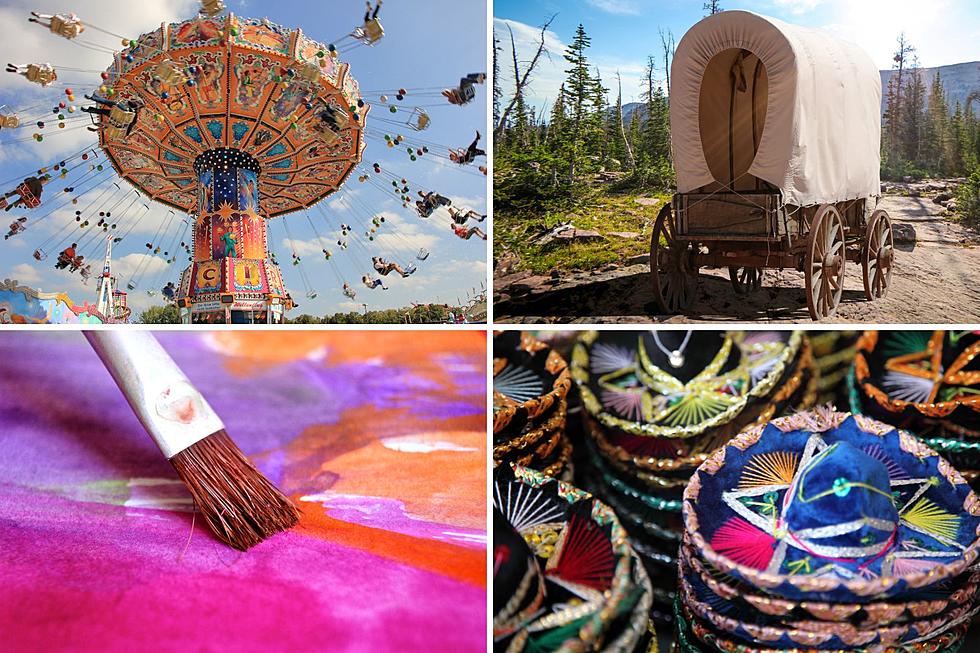 Don't Miss Out On These 9 Fun East Texas Weekend Events
Canva
If you're looking for something to do in East Texas this weekend, then you've found the right place.  Here's where you can make plans to do something and have some fun this weekend. While it's been blistering hot and dry this summer, East Texans are welcoming the cloud cover and cooler temperatures along with the occasional scattered showers or thunderstorms this week. But when it comes to our weekend plans, we'd like the rain to hold off.  However, it looks like you might be dodging some showers at this point on Saturday.
So keep the umbrella handy for the final weekend of the Gregg County Fair and Pittsburg Pioneer Days because you could get a little wet. Looking at the events calendar, there are a couple of things to do indoors this weekend too. Whatever you decide to do, just have fun doing it! There's lots more to come this fall too.
Here's a look at this weekend's events in East Texas.
For more information on any of these events, simply click or tap on the event name to be redirected to their official event page or website.
today - Saturday
Gregg County Fairgrounds - Longview
This fair got its start in 1949 by the Longview Jaycees. The Gregg County Fair also hosts the annual Miss Gregg County pageant which will feature pig races, a petting zoo, live entertainment nightly, and lots of family entertainment.
today - Saturday
Main Street - downtown - Pittsburg
The Little Miss Peach Queen Ball kicks off the event on the 9th with the carnival beginning Thursday followed by more activities and will conclude on the 16th with the parade that morning and more activities fun and games for the whole family.
today - Sunday
George Henderson Exposition Center - Lufkin
Competitions are abundant at the Texas State Forest Festival along with the carnival rides and live shows featuring birds of prey and ax throwing, there's a 5k run, a wood carving display, and so much more.
Saturday - 10a - 5p
downtown Gladewater
This is the 50th annual celebration of the arts & crafts festival. Vendors of all kinds will be set up along Broadway Ave. in downtown Gladewater celebrating the 50th year of the arts and crafts festival while selling and showing off their arts and crafts, homemade goods, jewelry, unique handmade works, food, toys, and more.
Friday - Sunday
Overton
The city is celebrating its 150th birthday! Homecoming is Friday night. Saturday there will be a parade, a classic car show, a vendor market, food trucks, live entertainment along with a street dance at 6 p.m. Sunday will feature the opening of a time capsule, a pancake breakfast, and more.
Saturday @ 8a
Winchester Park - Chandler
East Texas Cruzers has been showing off cars and trucks for a decade now at Winchester Park in Chandler. This event is a fundraiser for the Texas Wounded Warrior Project. There will be live entertainment, food, raffles, and fun.
Saturday 10a - 12n
Lillie Russell Memorial Library - Lindale
This is an interactive story hour event being held at the library. The event is open to all ages and will include crafts, prizes along with some coffee.
Saturday 9a - 5p
Bullard High School - Bullard
This event will feature a chili cookoff, vendors, an art show, live music, a car show, food trucks, and the best thing about it, it's free admission.
Satuday - 1p - 4p
Bergfeld Park - Tyler
Presented by the Tyler Hispanic Business Alliance and the City Of Tyler, this diverse festival of Hispanic and Latin American culture will feature live music, dance performances, visual and folk-art exhibits, educational booths, and activities for the whole family.
5 Most Popular Dog Breeds in Texas (2023)
Here are the most popular dog breeds in the great state of Texas!
Yikes! Here are 8 of the Most Haunted Places in Texas You Can Actually Visit
9 Most Secure Buildings in the State of Texas
Here is a look at the 9 most secure and safe buildings you will find in the state of Texas.
12 Highest Paid Texas State Employees
Here is a look at who they are, what position they hold and what their salary is currently.