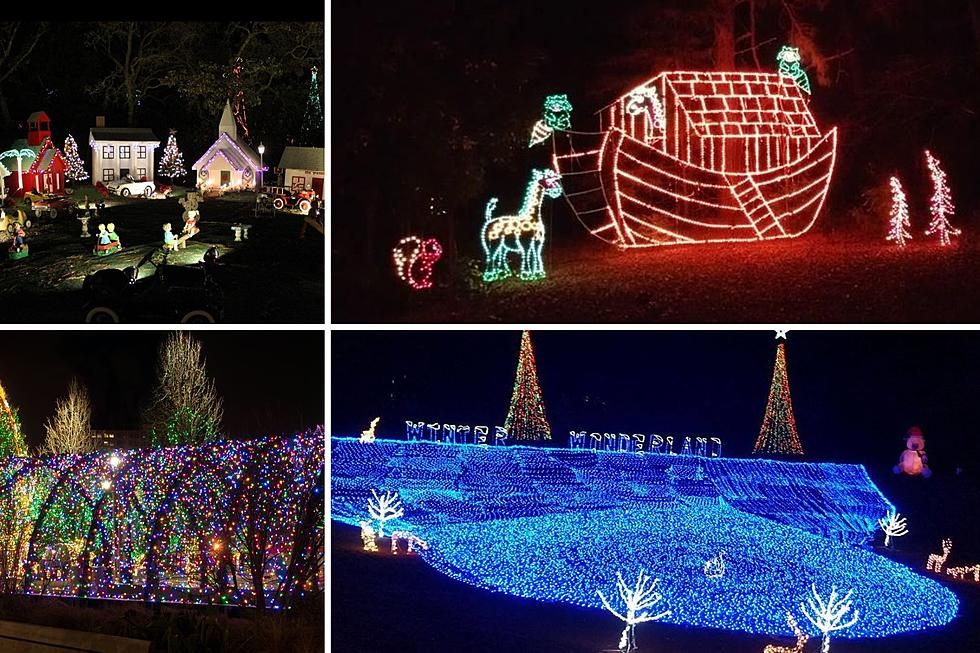 Where Are All The Drive-Thru Christmas Light Parks In East Texas?
Up In Lights, Land Of Lights, Carmela's Magical Santa Land via Facebook and Getty Images
The most wonderful time of the year is coming to life right in front of our eyes in East Texas. Homeowners are adding Christmas lights to their homes, reindeer to the front yard, and inflatables of all kinds are popping up all over too. Plus, you can see more and more Christmas trees through front windows and doors.
Christmas does something wonderful to us all, even just saying Christmas makes you feel good. Friends and family will be gathering and catching up on life while eating their way through a lot of homemade goodies. After the initial catching up on family news many will be wondering what there is to do around town while they're here. Thankfully East Texas has quite a few drive-thru and several walk-thru Christmas light parks you can visit.
Drive through any of these light parks while listening to Christmas music, sipping hot chocolate, eating sugar cookies or candy canes, and check out the millions of lights strung everywhere that are creating some stunning images.
Each park is extremely unique.
There are different styles of Christmas light parks you can visit:
painted scenes with cut-out figures
scenes made of steel and outlined by lights
combination of both
animated scenes
Many of these parks began as a family light display and over time they took on a life of their own and are now visited by thousands of people each Christmas and are now a part of many family Christmas traditions.
Let's take a look at some of the Christmas light parks in East Texas.
East Texas Drive-Thru Christmas Light Parks Mesmerize Families (2023)
Gather up the family and head to an East Texas Christmas light park to create some memories with the family.
Gallery Credit: Lucky Larry, Mix 93-1
LOOK: 25 over-the-top Christmas displays from across America
To help get everyone in the mood for the upcoming holiday season,
Stacker
compiled a list of some of the most over-the-top Christmas displays across America.
Gallery Credit: Annalise Mantz & Madison Troyer
LOOK: See what Christmas was like the year you were born
Gallery Credit: Isabel Sepulveda
LOOK: The top holiday toys from the year you were born
With the holiday spirit in the air, it's the perfect time to dive into the history of iconic holiday gifts. Using national toy archives and data curated by
The Strong
from 1920 to today,
Stacker
searched for products that caught hold of the public zeitgeist through novelty, innovation, kitsch, quirk, or simply great timing, and then rocketed to success.
Gallery Credit: Jacob Osborn & Peter Richman
LOOK: Holiday gift crazes and fads of the past century
Stacker
compiled a list of toy crazes from the past 100 years.
Gallery Credit: Jennnifer Billock