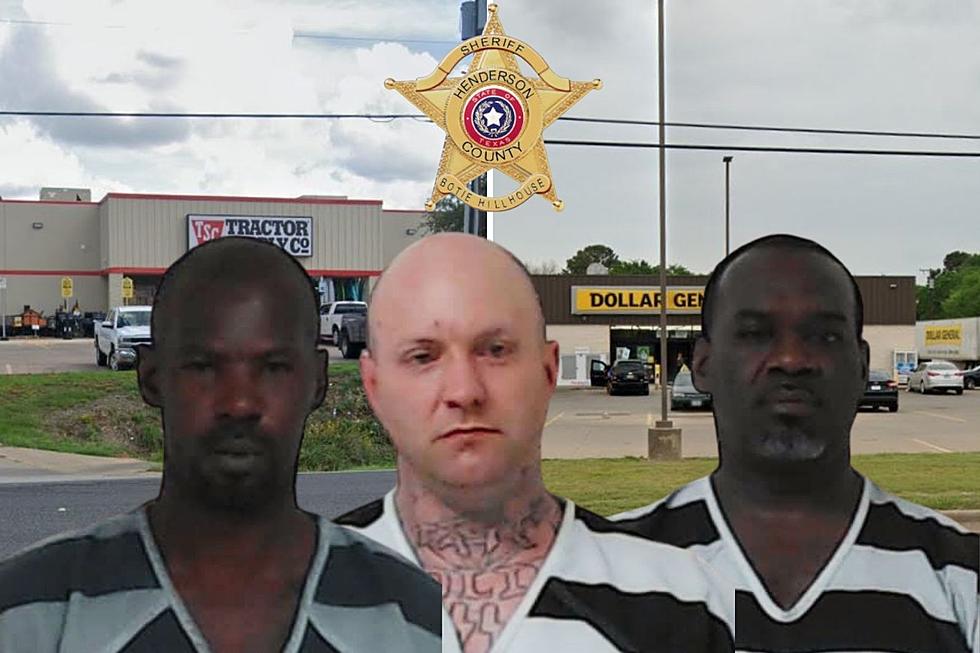 It Was A Busy Afternoon Of Crime In Athens, TX For Henderson County Sheriffs
Henderson County Jail/Canva
It's Pretty Safe To Say That Tuesday March 28th Was A Very Busy Day In Athens For The Henderson County Sheriff's Office As 3 Men Kept Them Pretty Active In Separate Cases.
I'm sure when a police officer wakes up in the morning they are hoping to not have to deal with too much "crime". The best days are the "quiet" days, when everything is peaceful and nobody is doing anything crazy that's going to land them in jail.
But it was an ACTIVE AFTERNOON this past Tuesday in Athens as the Henderson County Sheriff's Office shared details on a bunch of stuff that happened.
It All Began At The Tractor Supply Store in Athens.
According to the Henderson County Sheriff's Office, at approximately 4:35 p.m. Henderson County Sheriff Botie Hillhouse was at TSC in Athens when he observed a store employee exit the store and looked to be attempting to stop a male who was seen to be backing out of a parking spot.
Sheriff Hillhouse exited the store and asked if he had stolen something. The employee advised he had so the Sheriff Hillhouse attempted to locate the suspect after he left the store and requested other Sheriff's Office units for help.
The suspect was identfied as Kevin Tate.
Sheriff Hillhouse returned to the store and spoke with the employee who advised Tate struck her with his vehicle while he was attempting to drive away. Henderson County Investigators took a report for robbery and they later located Tate at a residence on Henderson County Road 3704.
Investigators were able to locate the item that was stolen from TSC and placed Tate under arrest for Robbery. Tate was transported to the Henderson County Jail where he is awaiting arraignment.
About 2 Hours Later, 2 Men Were Arrested At A Dollar General.
Sometime in the 6:00 PM hour a short time later, a deputy observed a vehicle commit a traffic violation as the vehicle was turning into the Dollar General on State Highway 31 West in Athens. He attempted to stop the vehicle and observed a male subject exit the passenger's side of the vehicle on foot running into the store.
The Man Who Ran Was Identified As Otis Walker.
The deputy allegedly observed Walker attempting to hide an item on a shelf in the store so he was detained where the deputy claims he located a glass smoking pipe where Walker was attempting to hide something.
The Deputy then went back to his patrol unit and made contact with the driver of the vehicle who was identified as Cortney Williams.
A K-9 Officer was called to the scene to search the vehicle and it revealed a quantity of methamphetamine and scales used to weigh the drugs according to police.
Walker was arrested for possession of a controlled substance, evading arrest with previous convictions, and tampering with evidence. Williams was arrested for driving while license invalid and possession of drug paraphernalia. Both Walker and Williams were transported to the Henderson County Jail where they are awaiting arraignment.
45 Ways to Show Off Your Whataburger Fandom
The Whatastore is full of clothes, collectables and even summer attire that any fan would love.
15 Famous People Buried in the State of Texas
Let's look at some of the big names that have been laid to rest in Texas.
Here are 7 Human Foods That Can Poison and Kill Your Dog
Some of these foods seem as benign as, say, a dried up grape, but can wreak absolute havoc on your four-legged friends. Check out the list according to Healthline.