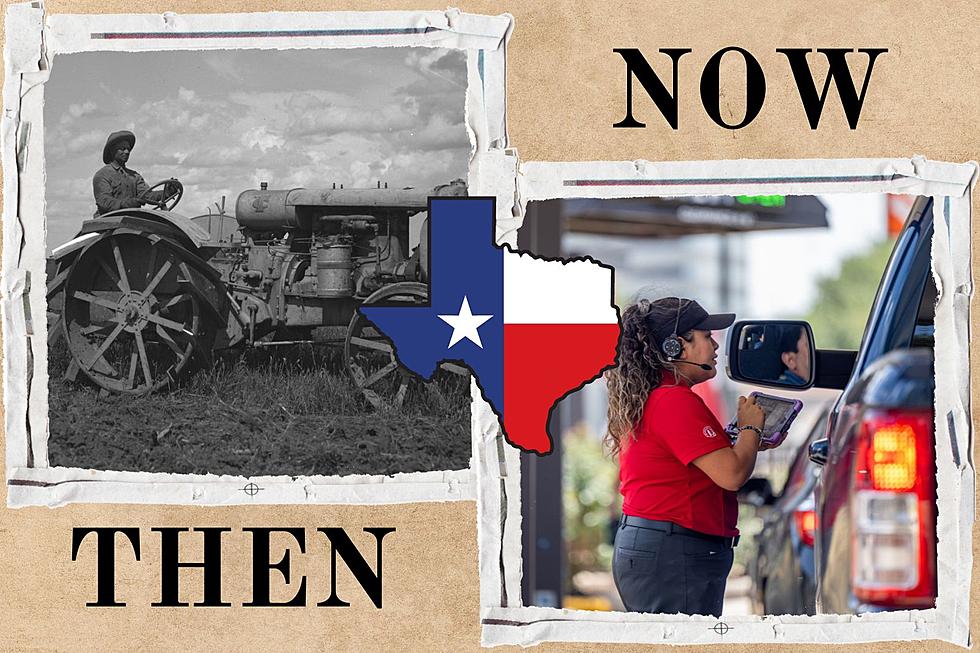 Most Common Jobs in Texas Then And Now
Panhandle Plains Historical Museum/Getty Images/TSM Amarillo
Having a job has been around since the beginning of time.  I mean think about it, Adam and Eve had one job and it was to not eat the dang apple.  They failed.
Having a job is a necessity, you need a job to make money and provide for yourself or your family.  This was true in the beginning and it is true now.
Texas looked a lot different 150 years ago than it did now, and the jobs were what you would think, lots of farm and ag and laborers.
According to a study done by Slacker, these were the top jobs 150 years ago.
Panhandle-Plains Historical Museum.[/caption]
Top 10 Jobs 150 Years Ago in Texas
 Agricultural laborers
Farmers and planters
Laborers (not specified)
Domestic servants
Carpenters and joiners
Stock-raisersSoldiers (United States Army)
Traders and dealers (not specified)
Draymen, hackmen, teamsters
Clerks in stores
Fast forward to jobs in Texas today, and you'll see drastic changes. As technology developed and more stores and businesses were opened, the job need changed.  According to a study by USA Wage, these are the top jobs in Texas.
Top 10 Jobs in Texas Today
Fast Food and Counter Workers
General and Operations Managers
Retail Salespersons
Home Health and Personal Care Aides
Cashiers
Customer Service Representatives
Office Clerks, General
Stockers and Order Fillers
Registered Nurses
Laborers and Freight, Stock, and Material Movers
Although some of these professions are the same, some from 150 years ago didn't make the list.  Isn't it odd that nothing Ag or farm related was in the top 10 and the #1 one jobs now would probably fall in the Clerks in Stores category from 150 years ago.
Beware of These 50 Jobs That Might Vanish in the Next 50 Years
READ MORE: See 50 remote jobs that can pay well
LOOK: All The New Businesses Opening Up in Amarillo (2022)
We love to see doors opening here in Amarillo. There's plenty of new restaurants, but have you noticed all the other new businesses popping up around town?
No?
Buckle up, let's dive into all the new places in Amarillo for 2022