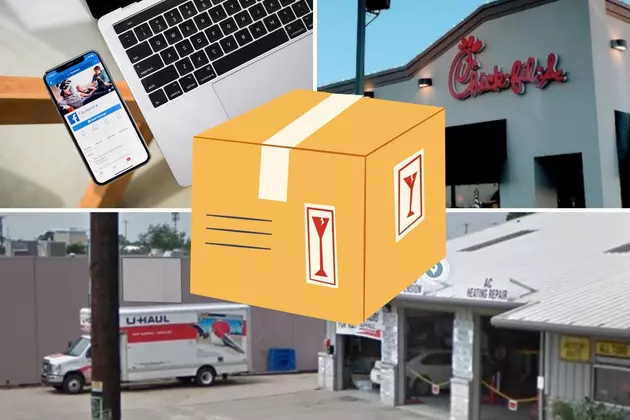 Locals Share the Best Places to Find FREE Moving Boxes in Tyler, Texas
Google Maps and Unsplash
Where are some of the best places in Tyler, Texas to find boxes when you are in the middle of a move?
I've heard this question asked so many times. And frankly, I've asked it myself at various times. Hopefully, I'll never have to move again. But ya just never know. LIke all of us, life can throw things into our path which means that once again, we find ourselves facing the oh so daunting task of packing up all of those things that have managed to stay with us over the course of many years.
You'd think after this question had been asked so many times it would be obvious. But since it's a question we only ask with some level of infrequency, it can be easy to forget... UNTIL you find yourself in that very situation once again.
I was surprised to hear from Tyler, Texas locals about some of the places they recommend to find moving boxes.
Sure, we're all familiar with these places, and we've HEARD you might be able to get boxes but it seems like it is changing all the time. And different locations over different types of boxes. For some of us, we don't care. We just want some kind of a container in which to fling our possessions before we make the move. For others, we specifically seek out boxes of a certain size or we want boxes with handles, and so on. And when it comes to packing books or other heavier things, nothing compares to those nifty milk boxes that have the handles built into the sides.
Disclaimer: Call ahead and make sure you have the right times to pick these boxes up. And never illegally wander onto private property. After all, we don't want to inevitably make a move to a place with bars on the windows. ;)
Whatever the case, here are 15 places recommended by Tyler, Texas locals to find the boxes you need before your next move:
Locals Share the Best Places to Find FREE Moving Boxes in Tyler, Texas
Here are 15 places recommended by Tyler, Texas locals to find the boxes you need before your next move
After all of that packing, isn't it time for lunch yet? 
Twelve of the Best Places to Find Chicken Spaghetti To-Go in the Tyler, Texas Area?
Though some of the BEST places are likely from a relative's home kitchen, these are some delicious offerings you can take home on regular basis.
[PHOTOS] Stunning! Look at This Enormous Palace of Luxury Here in Texas
Almost everything is breathtaking. From the marble staircase, sparkling pool, and windows for days, stunning. There's just one thing that doesn't make sense...