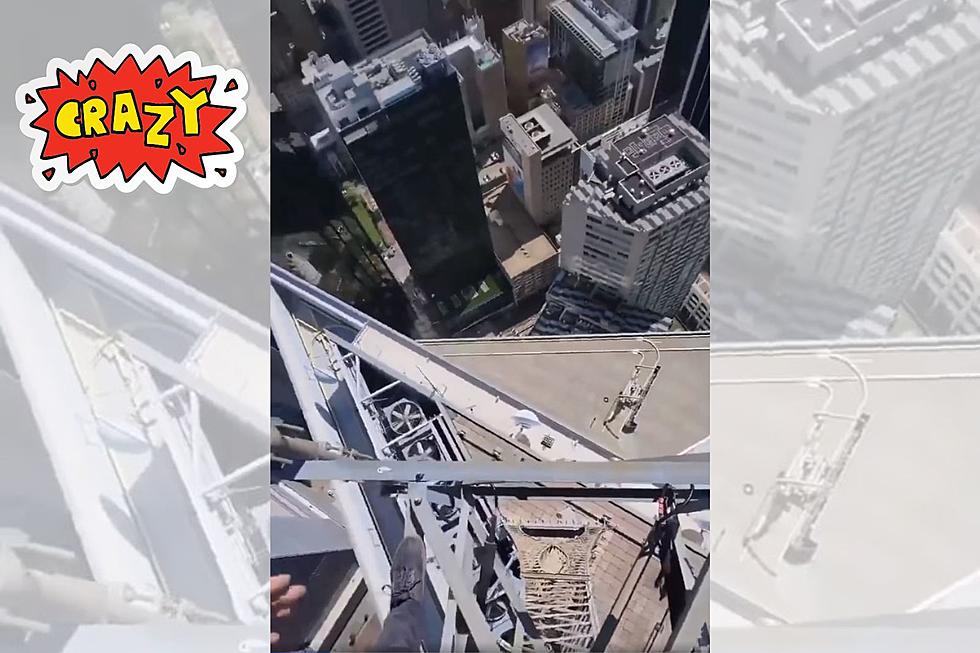 Video from Top of Dallas, Texas Skyscraper Will Make Your Palms Sweat
Dallas Texas TV, Canva
Most of us like to think that we are pretty brave, we are willing to do whatever is needed. But as I get a little older, I still like to be careful with my actions. I know that I have responsibilities so doing those same crazy things like I did when I was a teenager or in my early 20s is out of the question. Another thing I have noticed is that I cannot deal with heights like I used to, now I need a hand rail or something to hold onto when dealing with extreme heights. So, watching this video of this man on top of a skyscraper in Dallas, Texas made my palms sweat. 
Even with all the safety harnesses that some people use, I still would never be able to do something like this. I would freeze up there and would need to be rescued. But what is crazy to me is the person in this video showed no sign of harness or safety equipment, that is just flirting with death.  
Many People on Social Media Can't Handle the Video
There have been lots of comments on social media from people like me that say their anxiety was elevated just by watching this video. If you struggle with anxiety maybe you just skip this video, but if you can handle the crazy height, the videos are stunning. 
Do NOT Try Anything Like This
Please don't try to attempt something like this for internet fame, climbing this high without experience can cause death. It's not worth it. But here is the video that was posted by Dallas Texas TV that has people talking.  
This Austin Super Tower Will Soon Be The New Tallest Building in Texas by 20 Feet
For those not up to date on Texas architecture, the current tallest building in Austin is The Independent, and the tallest in the state is the JPMorgan Chase Tower in downtown Houston.
This new structure will better those by 300 feet and 20 feet respectively -- and bring the title of "Texas' Tallest Building" to the Capital of the Lone Star State.
WOW: The 11 Tallest Buildings In El Paso