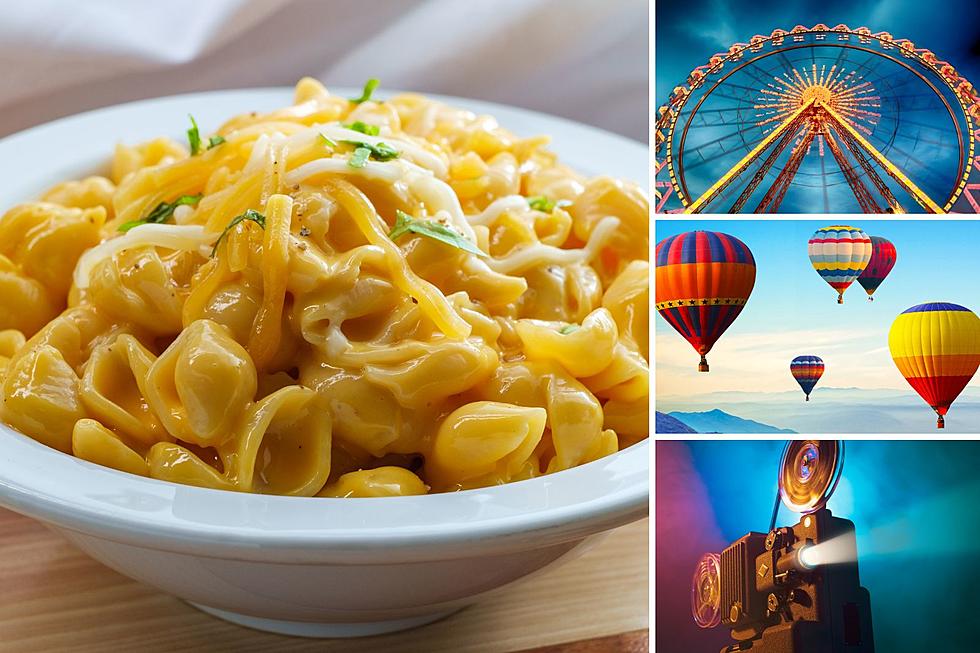 What's Happening In East Texas This Weekend? 10 Big Events, That's What!
Canva
It was a short work week for many East Texans this week and now another fantastic East Texas weekend is approaching and it's filled with a lot of fun activities for the entire family to enjoy.
In addition to it being a great weekend, it looks as if the weekend weather is going to cooperate with us and give us a chance to get out of the house and actually enjoy some of these weekend events without profusely sweating so much!
Here's a list of 10 big things that are going on this weekend around East Texas.
For more information on any of these events, simply click on their name and you'll be redirected to their official events page for more details.
Friday 7th - Saturday 16th
Gregg County Fairgrounds - Longview
The Gregg County Fair is kicking off the 'fair season' this weekend! Craving fair foods like cotton candy, smoked turkey legs, corn dogs, fresh squeezed lemonade, and other favorites? Get them this weekend in Longview! Plus ride all the carnival rides you want with an armband. Check out local vendor booths, shows, live entertainment, the Miss Gregg County pageant, and more.
Friday and Saturday
Lamar County Fairgrounds - Paris
This hot air balloon and music festival features something for the entire family. Live music on both Friday and Saturday evenings along with balloon glows, helicopter and monster truck rides, tethered balloon rides, and much more. There will also be food trucks on-site and local vendors, a corn hole tournament, a kids zone, and more.
Friday @ 6:30
downtown Pittsburg
Bring your chairs and blankets to the alley in downtown and enjoy the free music. Support local restaurants by ordering from area eateries and they'll deliver it right to ya!
Saturday @ 10a
Courtyard by Marriott - Tyler
They're psychic, they know you're coming! Psychic vendors will be on-site and welcome you to the psychic fair.
Saturday @ 9a
The Shacks on Main - Reklaw
Reklaw Trade Days is the 2nd Saturday of each month. More than 50 vendors will be open at this open-air flea market offering finds you won't find anywhere else. Repurposed and refurbished furniture, tools, outdoor equipment, handmade crafts, woodwork, jewelry and much more. Food trucks will be on site as well as other family entertainment.
Saturday 10a - 6p
downtown Tyler
The Downtown Tyler Arts Coalition invites you to this free community event in downtown that is designed to increase local artists' visibility and welcome more people to downtown and experience downtown life.
Saturday12n - 4p
Front Porch Distillery - Nacogdoches
Mac N Cheese lovers, this is the festival for you! This event will showcase the best cheesy creations from local food trucks. Bring your appetite and prepare to taste a variety of cheesy goodness. There will also be live entertainment, vendor booths, artisan craft spirits and more. Bring your appetite with you!
Saturday 3p - 7p
downtown Kilgore
Although sweaters and sweatshirts remain in the back of the closet, you can still get out and check out some autumnal activities and take a peek at spooky season art and decor and a look at some early holiday stuff too! There will also be live demonstrations, performances, and activities for the kids, artisans and more.
Friday - Sunday
Liberty Hall - Tyler
Tyler Film Festival is a 3-day event that celebrates storytelling through film in East Texas. The festival accepts projects from around the world but appreciates local independent works. Tickets are available for this three-night event.
Comedy Shows - Get Your Laughs On
Saturday
The Understudy - Tyler
Rose City Comedy - Tyler
Some of the best improvs in Texas will perform at The Understudy in Tyler with the 'All Star Improv' show.
Roderick McDaniel and Cody Miears featuring Benjamin Neeley will be performing at Rose City Comedy.
12 Businesses Tyler, Texas Residents Would Like To See Open Soon
These are the 12 businesses that Tyler residents would like to see come to the Rose City.
An Amazing Look At 10 Texas Ghost Towns That Once Stood Proud
These Texas towns once boasted a healthy population with a thriving economy, but along the way, something drastic happened within the town causing its population decline and slow death and eventually becoming a Texas ghost town.'
If you do go on an adventure and seek out these ghost towns, please do it safely. If you go on a journey into the woods please have the landowner's permission to do so or you could be prosecuted for trespassing. Above all, be careful, courteous, and inquisitive.
Can 5 Endangered Texas Sites, Including One In Longview Be Saved?
Through neglect, lack of maintenance, or trying to make way for progress, these nine locations throughout Texas have been identified as an 'endangered place' by Preservation Texas.
30 Of Tyler's Most Favorite Restaurants According To Residents
When asked what their favorite restaurant was right now, Tyler residents answered with these restaurants. Give them a try and one of these places could become your new favorite place