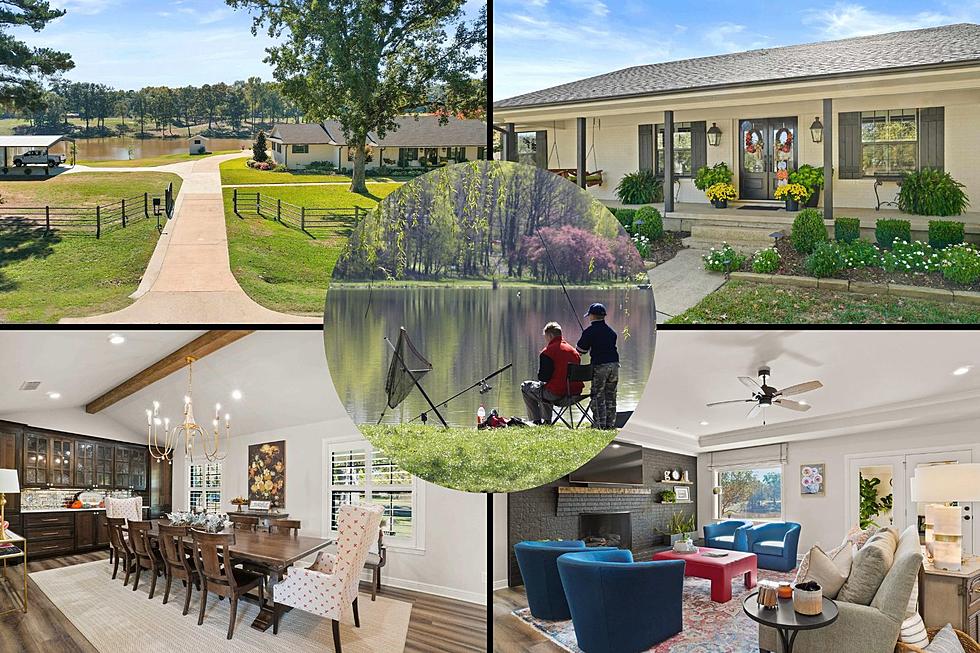 Fishing Steps From the Front Door on This Big Sandy, Texas Property
Wendy Yielding-ashley via realtor.com
For lots of people here in East Texas if they had a chance to go fishing every day, they would absolutely love to make that happen. And with this home and property for sale in Big Sandy, Texas you could make that dream a reality. The home is nice having been remodeled in 2018 and enjoy fishing on your own 6+ acre creek-fed pond. This place is going to be a dream come true for someone and if that person is you, please remember to invite me over for the housewarming party because this place looks fantastic. 
The house is 3 bedrooms and 2 and ½ bathrooms a total of 2,626 square feet on around 50 acres of land. You're going to love a lot about this home and property that is currently for sale, but I'm sure you want to know how much this tremendous property is going to cost you. The current list price for this property in Big Sandy, Texas is $1,499,000. You have to pay for the beauty here in East Texas. 
More Information on the Home and Property in Big Sandy
The home address is 9799 FM 49 in Big Sandy, Texas 75755. As mentioned above the home was remodeled a few years ago but was originally built in 1970. The home comes with a 2-car garage, and is entirely fenced in which means it's ready for you to move your cattle in. There is also a large shop on the property that is 30x40 and has a 25x30 overhang for additional parking. 
What Fish are in the Pond?
If you are wanting to go fishing each day just steps from the front door is your pond stocked with catfish, crappie, bass and blue gill. Now you just need to carve out some time each day to throw a line in the water. Have fun looking through the photos of this home and property in Big Sandy. 
Big Sandy, TX Property With a Fishing Pond Next to the House
If you love to fish and are looking to buy property in Big Sandy, Texas you have to look at this amazing property with a pond just steps from the front door.
Check Out These 17 Popular Brands That Were Created in Texas
Texas is certainly an entrepreneurial state with the proof being in these 17 very popular brands getting their start in our great state.