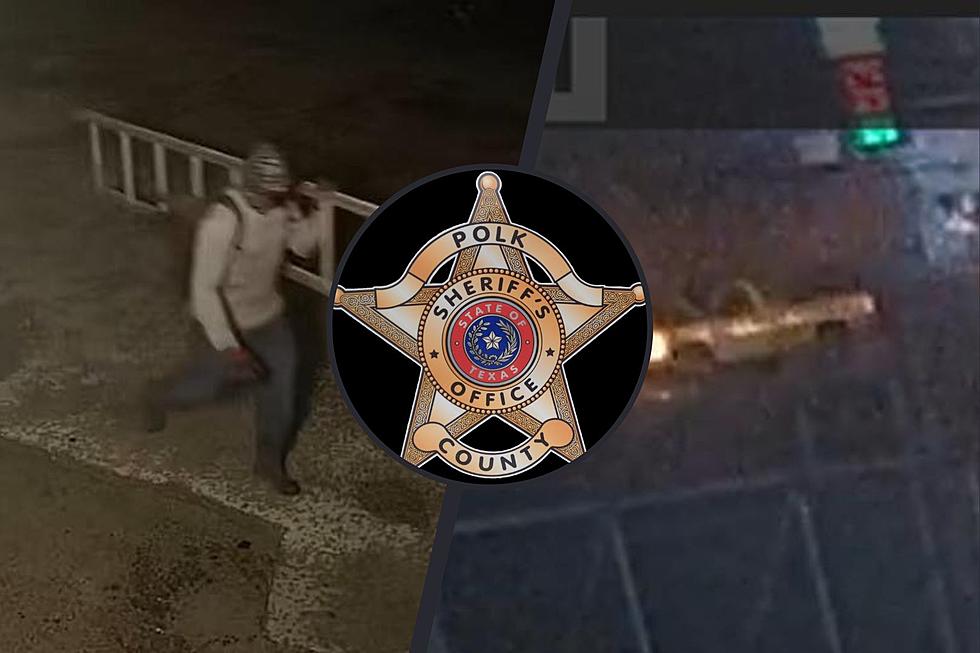 Polk County, Texas Police Need Help in Catching This Ladder Wielding Thief
Polk County Sheriff's Office TX, Sheriff Byron Lyons via Facebook
I think we can all agree in East Texas that thieves are the lowest of the low when it comes to criminals. I believe, in my humble opinion, that only child abusers are lower than a thief. What makes someone think that it's okay to take someone's money or property? There are those rare occasions, however, that you do have to at least applaud a thief's cleverness. Case and point is a thief being sought by the Polk County Sheriff's Office that used a ladder in his heist.
Clever and Well Thought Out Theft
The Polk County Sheriff's Office posted on their Facebook page recently about a theft of a business in Goodrich, just off of Highway 59 South. The thief obviously put a lot of thought into his crime. The thief was able to climb onto the roof of a local business there, cut a hole in the roof and lowered a ladder, that he brought with him, down into that hole to enter the business. From there, the thief was able to steal $16,000 from a "money machine."
The subject was wearing a light-colored long sleeve shirt, blue jeans, gloves and a mask. - Polk County Sheriff's Office
The photos are extremely low resolution but you somewhat get a picture of what the suspect looks like below:
Information Leading to Suspect's Arrest
If you have any information into this robbery, you are asked to call the Polk County Sheriff's Office at 936-327-6810. You can also call Polk County Crime Stoppers at 936-327-STOP (7867) or submit a tip through the mobile app at p3tips.com. There is the possibility of a cash reward being offered for information leading to the arrest of this suspect.
13 Myths Not Texans Believe are True about Texas
I decided to make a fun list of things that non-Texans believe are true about our home state of Texas. A couple of these, native Texans believe.
Gallery Credit: unsplash.com, Getty Images, YouTube
10 Most Unique Texas Airbnb Stays
Airbnb rentals are a convenient and unique way to enjoy a vacation. If you like to stay in something outside of a normal house, Texas is the place to find those unique stays.
Gallery Credit: Airbnb
Palestine and Wills Point Have 2 of the 12 Nude Resorts in Texas
If you like being without clothes around others who are without clothes, there are several places in Texas just for you, including two in East Texas.
Gallery Credit: Google Maps