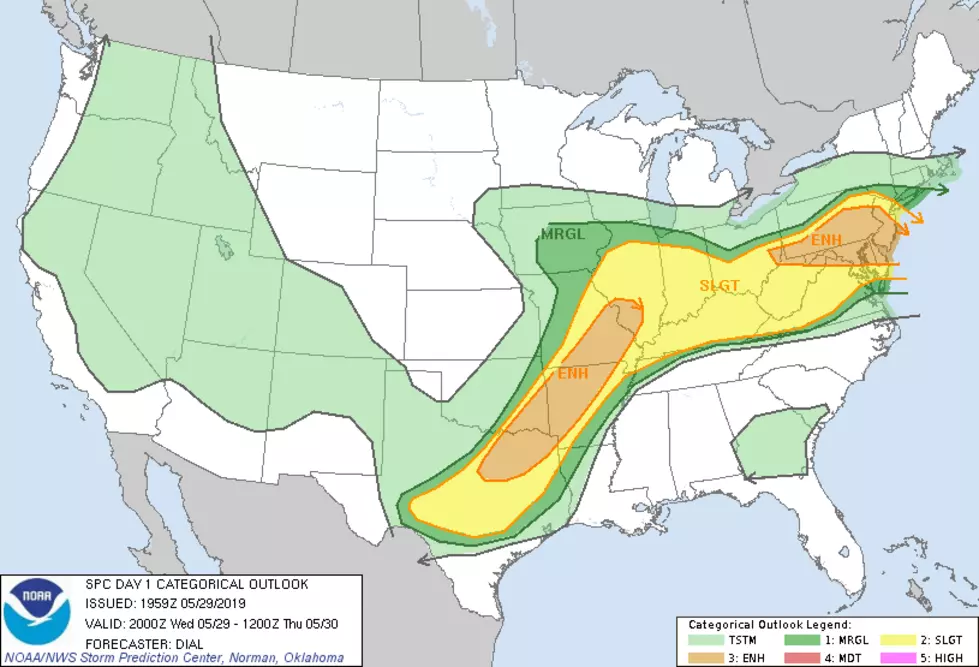 What the SPC Outlooks Mean When Storms Approach
SPC Outlook, Valid May 29, 2019 | Storm Prediction Center
While it's heating up across East Texas, it's still severe weather season. We can't let our guard down and need to be ready for the next storm.
In advance of these storms, meteorologists are doing what they can to prepare the public. However, it can be a little confusing at times. Like what do those outlooks that the Storm Prediction Center even mean? Slight risk… moderate… enhanced? Let's break it down.
The Storm Prediction Center monitors conditions for days ahead of time. They're doing what they can to inform the public, local media, law enforcement and emergency managers of what's to come. They do this in a number of ways, but the one most know about is issuing severe outlooks.
These outlooks break down the severe threats across the United States, more specifically by severe threats via numbers, descriptive labeling, and colors. It can be a little confusing so let's break it down for you.
Thunderstorms (Light Green): This category is for areas that will see general or non-severe thunderstorms. This could include lightning and thunder, and maybe some flooding, which exists with almost all thunderstorms.
Marginal (Dark Green): When this category appears, people start to pay attention as the storms that develop in this area could be strong to severe. However, they're usually limited in duration and/or coverage and/or intensity.
Slight (Yellow): This category represents areas that have a better chance to see organized strong to severe storms. However, they're not expected to be widespread in coverage and will have varying levels of intensity.
Enhanced (Orange): An area of greater severe storm coverage of varying levels of intensity, meaning there will be more storms than in a slight risk, and they could be strong and live longer.
Moderate (Red): We get a few of these each year in East Texas. It represents an area where widespread severe weather is likely, including several tornadoes and/or numerous severe thunderstorms is likely. This risk category will often times include supercells producing intense tornadoes, large hail and possibly squall lines with widespread damaging winds.
High (Purple): When this happens, you need to pay extra special attention. Only a few times a year will you see a high-risk category in the U.S. This category is reserved for the strongest of the storms, usually including an outbreak of severe weather with numerous long-lived, intense tornadoes. It can also include long-lived derecho-producing storms with damaging winds.
These categories are a piece of the puzzle to help forecast the future and to help the public understand the urgency of potential storms ahead.