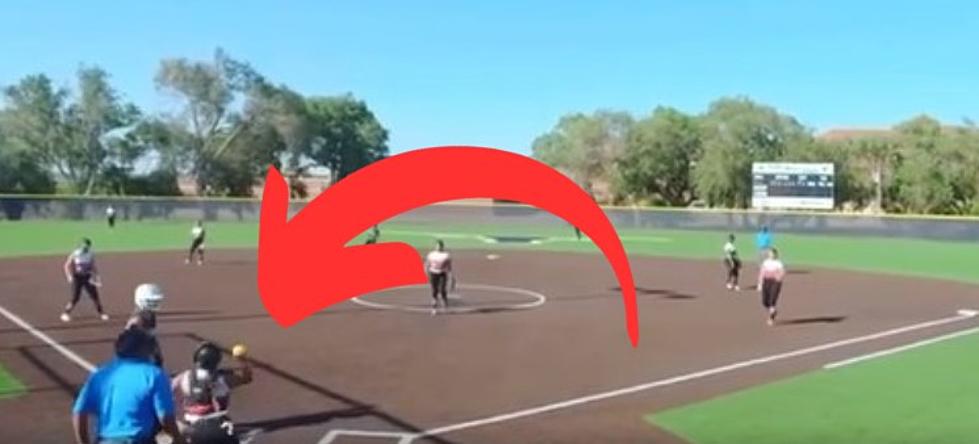 Did This Texas High School Softball Player Intentionally Throw at Girl's Head? [VIDEO]
Facebook
Keep Scrolling for the Video of the Incident
Let's travel over to McCamey, Texas just south of Odessa this week as the Texas University Interscholastic League (UIL) is currently investigating an incident at a girl's softball game. Looks like this is actually a playoff game, according to the McCamey ISD Facebook page telling folks to tune in for the Lady Badgers game against Cisco High School.
As you can see, best of three series and the winner moves on. Well it looks like the Lady Badgers catcher is being accused of being a dirty player and you know what, I 100% agree with the general public on this one.
So What Happened?
Bottom of the 6th, McCamey is losing by five runs at this point. The count is currently 0-1 with a runner on second. After a ball is thrown, the McCamey catcher throws the ball right at the batter's head. Here is why everyone is saying this is intentional. The runner on second doesn't even attempt to go to third. Maybe if this was a strikeout situation you do the throw around the bases after the strikeout, BUT this was not a strikeout situation. This girl clearly did this on purpose.
Watch the Video For Yourself, Let Me Know What You Think
Dustin Ferguson shared the video to his Facebook page and as you can see has gone quite viral. He claims this has been happening all season and it was actually the second time in the game that happened. Texas UIL shared a statement with KHOU, "The UIL is aware of an incident that occurred during the McCamey vs. Cisco Softball Playoff Series and is in contact with the school administrations to gather additional information," the spokesperson said.
Better hope this girl doesn't have a scholarship to play in college or her dirty antics might cost her moving on up to the next level.
The Definitive Ranking of Texas Professional Sports Mascots
I am a Dallas fan for pretty much everything, except baseball. Sorry, grew up in Baltimore so the Orioles are my team. However, when it comes to my mascot list below, I am being 100% honest. I think my choices will honestly shock you.
The Best and Worst Jersey for Every Professional Dallas Sports Team
Only focusing on the big four and I know my choices will piss A LOT of people off. I like weird s*** and I think my taste in jerseys will show this.