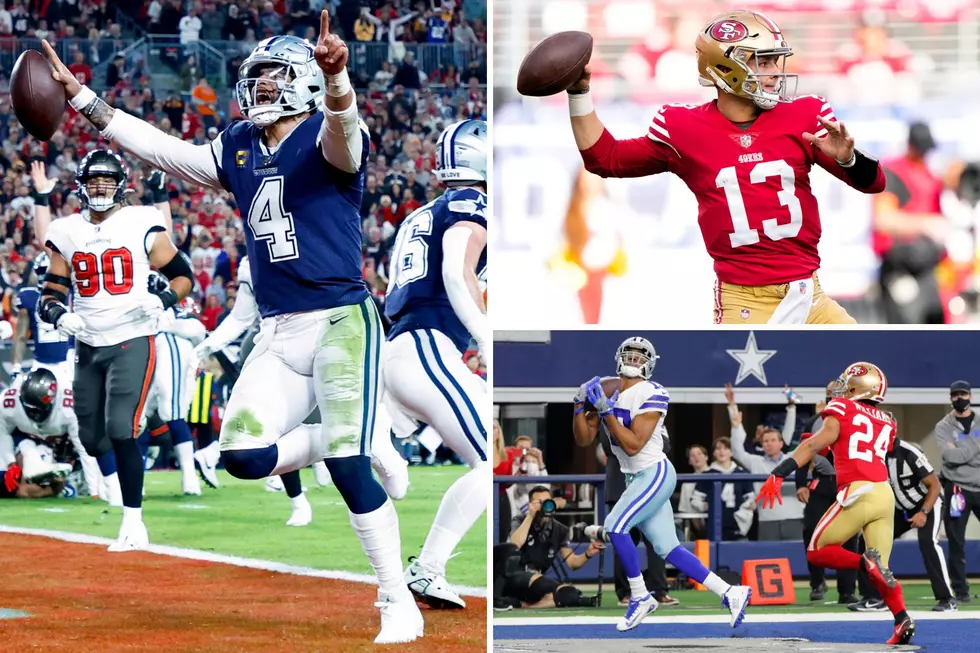 When Do The Dallas Cowboys Play The San Francisco 49ers?
Julio Aguilar, Thearon W. Henderson, and Richard Rodriguez Getty Images
The last of the NFL Wild Card Round games were played last night in Tampa Bay. The Dallas Cowboys handed the Tampa Bay Buccaneers a devastating loss after rolling over the Bucs 31 to 14 and putting an end to an otherwise Buccaneers losing season headed up by Tom Brady. After the Cowboys win last night, now they're just two wins away from playing in Super Bowl LVII.
It's been quite a while since the Dallas Cowboys have been this far in the playoffs, sending die-hard fans into a frenzy after their performance in Tampa Bay. Fans hope this winning streak can continue because up next for the 'Boys are the San Francisco 49ers.
Now I am not one of those hardcore fans that can tell you exactly what's happening with specific players and their stats, I'm just a casual fan that catches games here and there and I just happened to watch Dak and the 'Boys unleash on Brady and the Bucs last night on ESPN. After speaking with a huge Cowboys fan here at the office, the road to the Super Bowl isn't going to be easy for the Cowboys.
Divisional Round Playoff Games Are Next
The Cowboys will now face a hot San Francisco 49ers team Sunday (January 22nd) in San Francisco at Levi Stadium at 5:30 p.m. The 49ers are 13 and 4 on the season and have won 11 straight games. You can catch this game on Fox.
In other divisional match-ups:
Saturday at 3:30 on NBC - Jacksonville Jaguars take on the Kansas City Chiefs
Saturday at 7:15 on Fox - New York Giants and Philadelphia Eagles
Sunday at 2:00 on CBS - Cincinnati Bengals take on the Buffalo Bills
Winners of these four games go on to play in the Divisional Championship games and then from those two games only the winners go on to the Super Bowl on Sunday, February 12th. For all the Cowboys fans in Cowboys nation, let's hope Dak and the 'Boys can make it back to the biggest game in the NFL!
Hut Hut Hike, Here Are Great Spots to Watch Football in Tyler
If you're looking for great places to watch football or sports in general here are some fantastic options in Tyler.
Top 10: These Are Texas' Most Expensive High School Football Stadiums in '22
There's a reason every good high school football movie is based in Texas. Here in the Lone Star State Friday nights are revered and our young men in football pads exalted to legends in their hometowns. In fact as of last year, Texas is only second to Florida (by two players) as the state with the most players in the NFL.
The A to Z Guide of Tyler, Texas
Tyler offers its residents and visitors a wide variety of activities, whether its family activities, dining out, cultural experiences or history, there is a lot to do and learn.